SKIN PEELS LONDON
Go beyond the basics with your beauty
• improved & rejuvenated skin
• suitable for sensitive skin
Using powerful ingredients to treat exactly what your skin concerns are; skin peels offer a marvellous method when over the counter products and your skincare routine are not working to keep away acne, blemishes, dull skin and more. They can be tailored for your face and body so that you can get the clear and smooth skin that you have always wanted.
WHICH TYPE OF OF SKIN CONCERNS DO CHEMICAL SKIN PEELS TREAT
Skin peels are a type of treatment used to treat various skin concerns and types, improving the health, tone, appearance, and texture of the skin. We at Hannah London offer a range of non-invasive skin peels that can exfoliate, hydrate, and nourish your skin.
Due to their exfoliating properties and healing effects, skin peels are useful for treating a number of skin concerns. Skin conditions such as acne rosacea pigmentation and signs of aging can be treated. Our skincare experts will advise and help you choose the most appropriate peel for your skin type, allowing you to achieve your skincare goals.
SKIN TIGHTENING

ANCE

ROSACEA

PIGMENTATION
CHEMICAL SKIN PEELS AT HANNAH LONDON
At Hannah London, we utilize a range of advanced peels that infuse a carrier solution with a range of active ingredients that penetrate the skin deeper. This deep-acting technology reduces trauma to the skin's surface, resulting in an improved exfoliation rate. Each peel produces a different level of chemical exfoliation depending on the condition to be treated, classified as mild, medium, or deep.
SKIN PEEL TREATMENT – HOW DO CHEMICAL SKIN PEELS WORK?
To perform the procedure, a chemical solution is applied to the surface of the skin to remove its outer layers. The amount of skin that is removed will depend on the chemical used, its strength, and how long the product is left on the skin.
Chemical peels are usually described according to how deep they work on the skin. Below are some examples of the type of peels and the kind of language you can expect to hear used when discussing chemical peels.
(Glycolic acid such as Neostrata glycolic acid peel) Remove the outer layer of the skin or the "epidermal layers".
(such as NeoStrata peels) Remove the skin slightly deeper than epidermal layer.
(Trichloroacetic acid such as Obagi Blue peel) Remove both the epidermal layers and upper dermal layers.
A chemical peel can range from mild (a glycolic or salicylic peel) to deep (a TCA peel), and is achieved by applying an acidic irritant to the skin's surface, causing new, fresh skin to form. Chemical solutions react with the epidermis in such a way that they cause a superficial wound which the body then attempts to heal by stimulating the growth of new cells.
The doctor will cleanse your skin beforehand and may apply topical anesthesia if needed. If you are having a deeper, more abrasive peel, IV sedation may be necessary to make sure the patient is as comfortable as possible throughout the procedure. Afterwards, chemical agents will be applied to the skin, and left on for a few minutes to start breaking down the epidermis layer. During this time, patients may experience a slight stinging or a mild sensation of heat. After removing the solution, the doctor will apply a cold compress to soothe the treated area.
CHEMICAL SKIN PEEL TREATMENTS TYPES AT HANNAH LONDON
Glycolic peels are mild peels that are perfect for rejuvenating dull or aged looking skin, by exfoliating deeply, whilst gently resurfacing. Suitable for all skin types, including sensitive skin, they leave the treated area brighter, smoother and hydrated. For best results, six treatments spaced one week apart are recommended.
Mandelic peels are mild peels that are perfect for anyone with sensitive or acne prone skin who want an exfoliant that's less harsh than traditional AHAs (alpha hydroxy acids). This gentle acid that is derived from almonds that leaves your skin brighter, reducing hyperpigmentation and clears the pores.
Salicylic peels are mild peels that are brilliant for treating acne and oily skin, as well as fine lines and wrinkles. Peels using Salicylic Acid help eliminate excess oils and debris that cause breakouts and blackheads, resulting in dramatically improved appearance of the skin. For best results, salicylic acid can be used once a week.
Lactic peels are mild peels that are ideal for anyone with acne-prone skin or who frequently breaks out. Peels using Lactic Acid help to kill bacteria, deminish fine lines and wrinkles, reduce acne lesions and also helps the skin to hold moisture. For best results, lactic acid can be applied once every few days.
Azelean peel is a mild peel that consists of both Azeliac and Salicylic acid. Peels with Azeliac acid is for all skin types, but especially for anyone with acne-prone, rosacea-prone skin and hyperpigmentation. This peels can help fight acne, treat rosacea, lighten dark spots, and removes dead skin cells.
Melanostop peel is a combination of Azelaic acid, Resorcinol and Phytic acid. This peel is specially formulated to treat melasma and other melanic hyperpigmentation.
Jessner peels are medium to deep strength peels that can be customised in strength by applying multiple layers. Therefore, they are excellent for treating deep scarring and pigmentation. Aside from that, they can also clear blocked pores, reduce redness, soothe inflammation, and even revert skin laxity.
TCA (Trichloroacetic) Peels are intense strength peels. However, they are the leaders in resurfacing treatments; softening acne scars, pigmentation, sun damage, fine lines, wrinkles, and skin laxity. Peels containing TCA come in a variety of strengths, and anesthetic cream may be needed for deeper scarring. Be aware that this treatment is not recommended for sensitive or dark skin.
Cosmelan Depigmentation Peel
The Cosmelan Depigmentation Peel is designed for clients who have severe pigmentation caused by hormonal factors, such as pregnancy, contraception pills, sun exposure, pigmentation caused by aging, or for clients who have melasma, which most lasers cannot treat.
Cosmelan is one of the most effective depigmentation treatments currently available, and one of the most widely used skin brightening/whitening treatments, reducing pigmentation up to 90%.
SKIN PEELS BEFORE AND AFTER
Cosmelan Depigmentation Peel Treatment
Book your free Skin Peels treatment consultation at Hannah London.
When trusting someone with your face, we cannot stress enough, the importance of choosing the right practitioner who has your overall health and wellbeing in mind.
At Hannah London, you can have confidence in our licensed chemical peel specialists and qualified doctors like Dr.Kaywaan. All our therapists and aestheticians are highly trained and with years of experience. See our team here.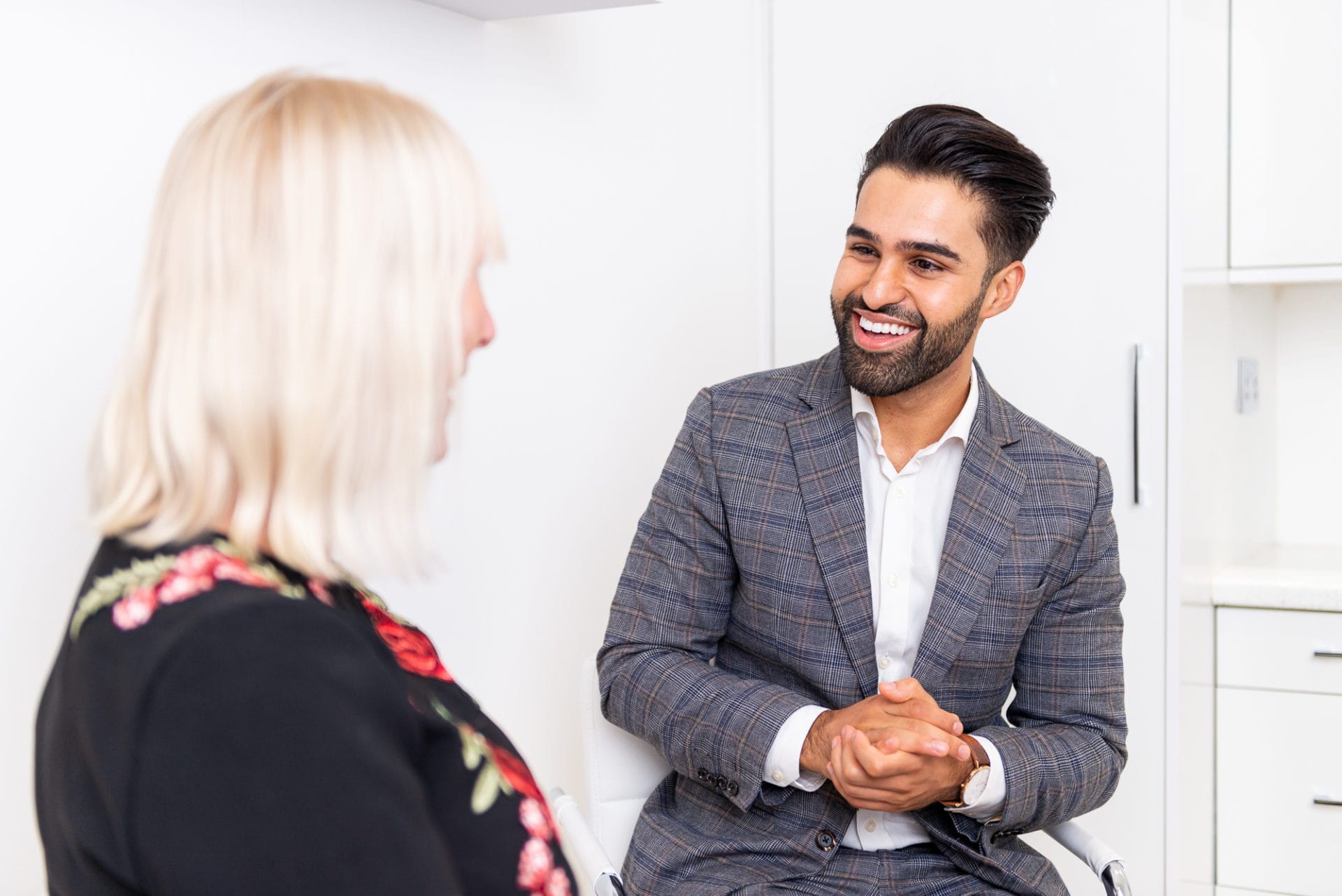 BOOK YOUR SKIN PEEL TREATMENT ONLINE
Book Skin Peel Treatment at Harley Street or Beaufort Park
Frequently Asked Questions
Let us answer some of the questions you may have below.
IS A SKIN PEEL RIGHT FOR ME?
Peels can be used to treat a variety of skin concerns, including wrinkles, fine lines, acne scarring, age spots, enlarged pores, dark spots and sun damage. For those who want a fresh start on their skin, skin peels are a great idea. Book a free skin peel consultation with a trained expert to find out which skin peel is best for you.
WHERE ON MY BODY CAN I HAVE A SKIN PEEL?
The peels we offer can be used on almost any area of the body, including the face. We offer skin peels for the eye area, face, hands, neck, and décolletage.
ARE SKIN PEELS SAFE?
Yes, our skin peels are 100% safe. In addition to being completely safe, our peels have been tested for all types of skin and skin tones by the manufacturer; then by our Medical Standards team; and finally by our practitioners during their training. Your eyes and hair will be protected during treatment.
DO SKIN PEELS HURT?
During your treatment, you may experience a slight tingling sensation as the peel works, but this is completely normal.
WHAT HAPPENS AFTER A SKIN PEEL?
You will notice improvements after your first treatment. The skin will feel softer and appear subtly younger. Getting the best results will depend on regular treatment. Here at Hannah London, we take pride in not just delivering the best care, but also in offering individualized aftercare.
WHAT IS MY SKIN TYPE?
At Hannah London we use a skin type scale to determine which type of treatment is best for you.
Skin Type 1 – Light, pale white tone. Always burns and never tans.
Skin Type 2 – White, fair tone. Usually burns, tans with difficulty.
Skin Type 3 – Medium, white to olive tone. Sometimes mild burn, gradually tans to olive.
Skin Type 4 – Olive, moderate to brown tone. Rarely burns, tans with ease to a moderate brown.
Skin Type 5 – Brown, dark brown tone. Very rarely burns, tans very easily.
Skin Type 6 – Black, very dark brown to black tone. Never burns, tans very easily, deeply pigmented.
Book a Consultation and one of Hannah London aestheticians will contact you to answer any questions you may have.
HOW LONG WILL THE SKIN PEEL RESULTS LAST FOR?
A light chemical peel will leave your skin looking more firm and hydrated for around two to three months, while a moderate peel will give you lasting results for up to six months. For a more Deep chemical peel, visible results can last up to 3 years after the treatment.
Your results will also depend on how well you continue to take care of your skin, since the best results are achieved through diligent skincare, ample moisturizing, and sun protection. Our professional skin experts will be happy to advise you on how to best care for your particular skin type and to extend the results of your chemical peel for as long as possible.
HOW LONG WILL THE CHEMICAL PEEL PROCEDURE TAKE?
Chemical peels usually take no more than an hour to perform. As part of preparation for the peel, some time may be devoted to anesthesia application and allowing it to take effect.
HOW LONG IS THE RECOVERY?
It can take anywhere from 2 weeks to 2 months for the skin to heal depending on the depth and severity of the peel. After mild peels, new skin starts regenerating after 2 days, and by 10-14 days, it is healed almost perfectly. Chemical Peels that are more intense and deep may take up to two months to heal completely, but their results are much more dramatic and long-lasting.
ARE THERE ANY SIDE EFFECTS WITH SKIN PEELS?
Mild Chemical Peel – This peel will cause skin redness, flakiness and peeling; tightness in the treatment area, as well as moderate sensitivity.
Intense Chemical Peel – This peel may also include skin tenderness, warmth, itchiness, and a slight stinging sensation. A particularly deep peel will leave the skin looking red and scaly for a few weeks afterward, but this is normal and part of the healing process. Eventually, the old skin will fall away, leaving a layer of fresh skin beneath.
The doctor will discuss the aftercare you may require.
WHEN CAN I RETURN TO WORK?
Mild peels require little to no downtime, so patients can return to work the following day, if not sooner. Those recovering from a deeper peel, however, will need a week or two to fully recover. The downtime will allow you to adequately care for and protect your skin during the healing process when it is particularly sensitive. Within 2 months, fresh, new skin will have replaced the previously damaged layer, and at this time, patients can fully enjoy the benefits of their rejuvenating peel.
HOW MUCH DOES A CHEMICAL PEEL COST?
Chemical peels vary in strength, and as a result, the cost depends on how severe the treatment is. Peels that are mild and rejuvenating, start at about £90, whereas deeper, more intense or specialist peels can cost up to £950.
See our Hannah London Skin Peels Prices below and book your consultation with us to discuss your options today!
| DESCRIPTION | ONE SESSION | THREE SESSIONS | SIX SESSIONS |
| --- | --- | --- | --- |
| Skin Peel with Single Acid | £90 | £250 | £470 |
| Customised Peel | £125 | £325 | £600 |
| Cosmelan Treatment Peel | £450 | - | - |
| Cosmelan Complete Package | £2,000 | - | - |
| Eyecon | £96 | - | £475 |