Profhilo is a bio-remodelling injectable skin treatment designed to precisely hydrate, replenish and tighten skin. Profhilo's formulation contains one of the highest concentrations of hyaluronic acid compared to its counterparts, providing it with its unique remodelling abilities. Hyaluronic acid is vital in keeping the skin feeling plump and hydrated. Hyaluronic acid works by attracting and holding onto water which lubricates our skin.
Over time, the distribution of hyaluronic acid changes meaning there is a decreased amount in our skin. This can lead to unwanted sagging and wrinkles. Our bodies naturally produce hyaluronic acid and collagen, however, over time their production significantly decreases for a multitude of reasons: tobacco smoke, pollution the ageing process and so much more.
Therefore, supplementing with luxurious treatments like Profhilo are perfect for improving your skins tone and texture, especially if it is lacking in moisture and volume. This rejuvenating treatment works on hydrating the skin from the inside to help you achieve youthful and refreshed looking skin.
The results appear instantly and are hard to miss, after a few short minutes your skin will have instantly gained elasticity and volume. This treatment is designed for those who want to combat fine lines and creases whilst also providing the full face with deep layered hydration.
How does the Profhilo treatment work?
Profhilo differs from other injectable treatments because once it is injected hyaluronic acid slowly releases and its role is to stimulate collagen and elastin production. This volumizes the skin as opposed to simply filling in wrinkles like fillers do.
Once it has encouraged the production of collagen and elastin the skin will begin to regain its firmness and natural radiance. This antiwrinkle treatment works at bettering the quality of your skin health from deep within the dermis providing you with long-lasting results.
Through preventing the degradation of collagen, we can slow the ageing process as collagen is important in giving our skin strength, glow and bounce.
What are the steps in a Profhilo treatment?
We always begin your skin health journey with a consultation with one of our doctors in order to best cater to your specific skincare needs, this allows us to customise treatments so we can help you achieve your specific skincare goals.
We always begin by cleaning the skin to remove any residue in order to have a clean and clear surface. Then we begin the specialised injection process by the name of BAP (Bio aesthetic points). This unique technique was developed in order to administer the product to the safest locations in the face, with the least number of injections possible (only five injections per side!).
The areas where the product is injected are: centre of the cheek; chin; Infront of the ear; cheekbone and above the jaw. Once these areas have been injected the product spreads underneath the skin surface allowing us to target the whole face instead of singular locations, this provides us with a gentle reshaping and intense moisturising of the skin. It is also possible to treat the neck, forehead and decolletages, these areas simply require a different needle.
Profhilo Treatment Before & After
We cannot emphasize enough the importance of choosing a practitioner who has your overall wellbeing and health at heart when it comes to choosing someone to work on your face and body.

At Hannah London, you can rely on our licensed Profhilo experts and qualified doctors like Dr.Kaywaan.
All of our therapists and aestheticians have years of experience and training under their belt. See our team here.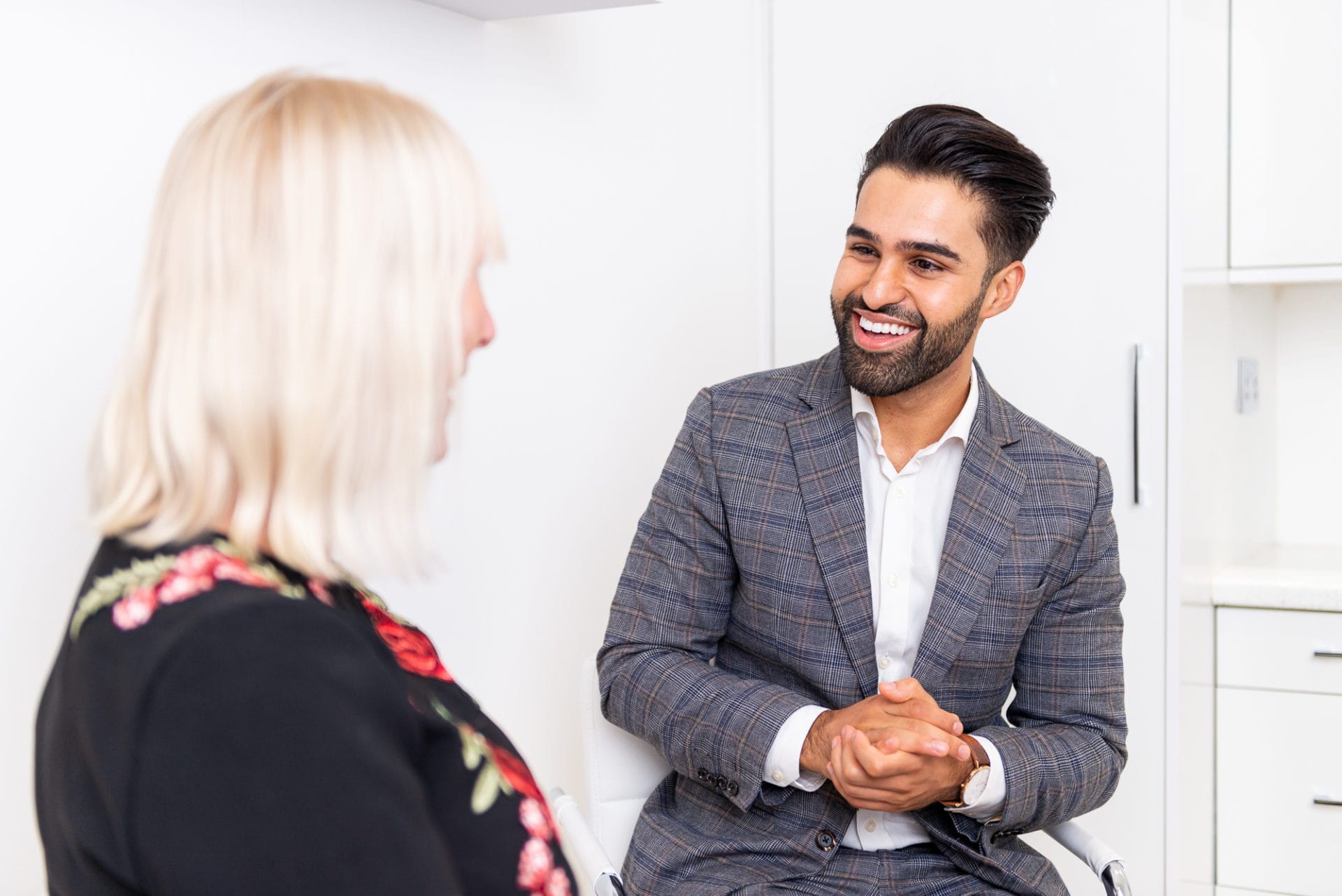 Don't hesitate, schedule your free Profhilo consultation below.
REQUEST YOUR FREE CONSULTATION
BOOK PROFHILO TREATMENT AT HARLEY STREET OR BEAUFORT PARK
Book your profhilo treatment online
Frequently Asked Questions
Let us answer some of the questions you may have below.
How long does a Profhilo treatment last and how often should I get the Profhilo treatment?
The amount of time the results will last differs depending on the person, but usually they last up to six months. When receiving your first treatment dermatologists recommend two sessions with a four- week break in between them to see optimal results. After the initial two sessions this process can be repeated every six months to ensure the long-term maintenance of the results.
What to do after a Profhilo treatment?
If the patient is experiencing any bruising or swelling, we recommend holding an icepack against those areas. It is also important to avoid any intense physical activity; makeup; extreme temperature changes and cosmetic treatments for 24 hours after the procedure.
Is the Profhilo treatment safe and are there any side-effects?
The Profhilo treatment is very safe, it is formulated in highly professional and sterile laboratories and is only handled by professionals who have been taught how to administer the product. Another difference between fillers and Profhilo is that Profhilo only lasts in the skin for around a month as the hyaluronic acid will be metabolised after successfully stimulating collagen and elastin production so the results will be maintained, however, fillers can stay in the body for up to 18 months. The side effects of this treatment are very minimal such as slight swelling and bruising however, these will subside a few hours after receiving the treatment. To help minimise bruising 24 hours before treatment patients should avoid taking ibuprofen and drinking alcohol.
Does the Profhilo treatment hurt?
Patients may experience a small amount of discomfort; however, this does not last very long. Also, the BAP technique was also designed with pain reduction in mind, so the locations chosen for the injections are best suited for those with a low pain tolerance.
How much does the Profhilo treatment cost?
Single session: £395
2 sessions: £595
PROFHILO PRICING
Profhilo Single Session
£395
Profhilo 2 Sessions
£595