The best profhilo in london - anti-ageing, hydrating, face lifting and skin tightening, hyaluronic acid-based injectable treatment.
PROFHILO
• improve skin tone, texture and hydration
• stimulate collagen and elastin
• combat skin laxity
• anti-ageing
Are you looking for a way to tighten skin and bring youthfulness back to it?
If yes, then you should consider the Profhilo skin treatment at Hannah London Medi Spa.
This method has been proven effective in improving skin texture, skin quality, and combating skin laxity.
What is Profhilo Treatment?
Profhilo is a bio-remodelling injectable treatment designed to precisely hydrate, lift and tighten skin.
Profhilo is the first BDDE-free stabilised injectable hyaluronic acid-based product for treating skin laxity.
Injectable Hyaluronic Acid & Profhilo
Profhilo's formulation contains the highest concentration of Hyaluronic acid. You may already be familiar with topical hyaluronic acid, as it is very common in the skincare and beauty industries. Hyaluronic acid is a gentle naturally occurring molecule in the body that can hold up to 1000 times its weight in water, making it moisturizing and hydrating, Hyaluronic acid works as a magnet for moisture that promotes the appearance and feel of healthy, young skin by moisturizing the surface while reducing the appearance of fine lines and wrinkles.
Collagen Stimulation & Profhilo
As we age, the natural production of collagen and elastin is decreased, meaning that youthful plumpness is fading leading to unwanted sagging skin and wrinkles. Collagen strengthens and hydrates the skin, and with the Profhilo, all 4 types of collagen are stimulated to improve the quality of the skin.
Profhilo takes these benefits one step further by injecting pure, concentrated hyaluronic acid gel into the skin with a very thin needle to increase skin elasticity and collagen production, giving skin a firmer, more youthful appearance.
Profhilo vs Dermal Filler
Profhilo and Dermal Fillers are both common injectable aesthetic treatments containing hyaluronic acid used to treat visible signs of ageing, but this is where their similarities end. Profhilo and dermal fillers are actually very different…
Dermal Filler injectables contain hyaluronic acid too, however instead of just filling in the lines and wrinkles like dermal fillers do, Profhilo is able to stimulate your natural collagen and elastin production in the skin. This will not only reduce the appearance of fine lines but also improves the hydration and the tone of the skin. Because collagen keeps the skin strong, supple, and bouncy, it allows us to slow the ageing process. Profhilo treatment volumizes the skin as opposed to simply filling in wrinkles as a dermal filler would do.
Therefore, Profhilo treatment is the perfect choice for anyone who lacks elasticity and volume in their skin. Be prepared to have your skin renewed from within!
How does the Profhilo treatment work?
Profhilo is a fantastic anti-ageing hydration treatment that differs from other injectable treatments.
Before the Profhilo procedure, we always begin with examining and assessing your skin and skin type with a consultation with one of our medical practitioners in order to best cater to your specific skincare needs, this allows us to customize treatments so we can help you achieve your specific skincare goals.
We begin by cleaning the skin to remove any residue in order to have a clean and clear surface.
Once these areas have been injected the product spreads underneath the skin surface allowing us to target the whole face instead of singular locations, this provides us with a gentle reshaping and intense moisturising of the skin. Because once it is injected hyaluronic acid is slowly released and its role is to stimulate collagen and elastin production takes place. Once it has encouraged the production of collagen and elastin the skin will begin to regain its firmness and natural radiance.
This treatment works at bettering the quality of your skin health from deep within the dermis providing you with long-lasting results.
Profhilo Treatment Before & After
Hannah London Medispa is led by a highly trained, skilled, and qualified team with medical directors administering and overseeing our advanced aesthetic treatments.
During the initial consultation, you'll meet with medical professionals.
We will review your past medical history, and cosmetic procedures history, discuss your goals and learn how to prep for the day of the Profhilo treatment.
We work with you to achieve a look that is natural, elegant, and desirable with all our aesthetic treatments.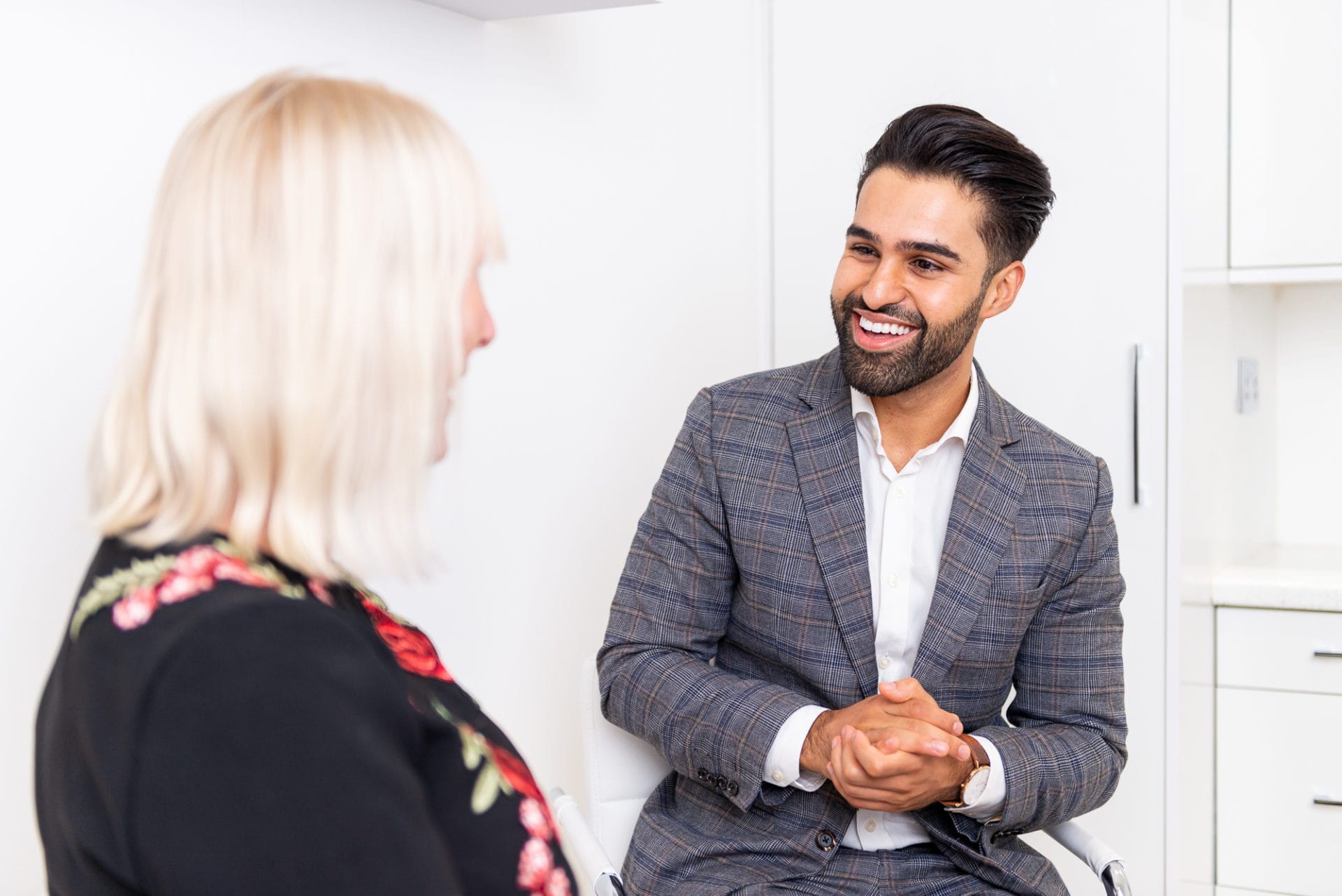 Don't hesitate, schedule your free Profhilo consultation below.
BOOK PROFHILO TREATMENT AT HARLEY STREET OR BEAUFORT PARK
Book your profhilo treatment online
Frequently Asked Questions
Let us answer some of the questions you may have below.
WHO IS THE PROFHILO TREATMENT SUITABLE FOR?
Profhilo is an anti-aging hydration treatment that helps increase hydration under the skin's surface and helps kick start the natural production of collagen & elastin. It's suitable for anyone who wants to look younger. This innovative treatment would be more suitable for anyone aged after 30.
WHAT AREAS CAN BE TREATED WITH PROFHILO TREATMENT?
Profhilo is a rejuvenating treatment that can smooth fine lines, and wrinkles, and improve skin texture in the following areas: cheeks; cheekbone, chin; Infront of the ear; and above the jaw. In general anywhere on the face neck decolletage, depending on the client's desires.
WHAT ARE THE BENEFITS OF PROFHILO TREATMENT?
Profhilo improves skin tone, texture, and hydration, giving you a radiant skin
Profhilo combats skin laxity
Profhilo contains the highest concentrations of Hyaluronic Acid
Profhilo stimulates the production of all types of collagen and elastin, due to the slow release of hyaluronic acid
Profhilo helps with volume loss
IS PROFHILO TREATMENT A SAFE TREATMENT?
Yes! Profhilo is safe and FDA-approved. While there are many ways to treat skin texture and skin tightening, the Profhilo treatment is considered to be the safest and most effective. It is only administered by medical practitioners.
ARE THERE ANY SIDE EFFECTS WITH PROFHILO TREATMENT?
Profhilo is HA-based treatment, meaning it is made from pure and natural hyaluronic acid and stabilised without any chemical cross-linking agents which reduces the risk of adverse reactions. As a result, this makes the downtime very minimal. You make experience minor inflammatory response like minor swelling and redness at the injection sites. During our consultation, we will discuss any concerns you may have and if a previous medical condition may have an effect.
DOES PROFHILO TREATMENT HURT?
Like any injectable procedure, you may feel a little discomfort due to the prick of a needle. For your comfort and pain relief, a topical anesthetic will be applied 20-30 mins prior to treatment.
WHAT IS THE AFTERCARE FOR PROFHILO TREATMENT?
Avoid excessive sun exposure for at least 7 days after treatment.
Avoid intense exercise, saunas, and steam rooms for the first 24-48 hours after treatment.
Avoid alcohol and blood-thinning medications such as aspirin, ibuprofen, and fish oil supplements for 24-48 hours.
Avoid massaging or rubbing the treated areas and touching your face for the first 24 hours after treatment.
Avoid facials for the course of the Profhilo treatment and for at least 24 hours after treatment.
Avoid applying makeup for 6 hours after treatment.
Be gentle when washing your face and keep the treated area moisturized with a gentle, non-perfumed moisturizer.
HOW LONG DO THE PROFHILO TREATMENT RESULTS LAST?
The duration of the results varies depending on the person but usually lasts up to six months.
HOW OFTEN SHOULD I GET THE PROFHILO TREATMENT?
For optimal results, we recommend two treatments, separated by a 4-week break or a month interval, during your first treatment. This process can be repeated every six months to ensure long-term maintenance of the results after the initial two sessions.
HOW MANY PROFHILO TREATMENTS WILL I NEED?
To achieve the best results, you will need 2 Profhilo treatment sessions, with 4 weeks between them. After initial consultation with our practitioners, we will advise a personalized treatment plan for your skin type.
HOW MANY PROFHILO TREATMENTS WILL I NEED?
To achieve the best results, you will need 2 Profhilo treatment sessions, with 4 weeks between them. After initial consultation with our practitioners, we will advise a personalized treatment plan for your skin type.
HOW MUCH DOES THE PROFHILO TREATMENT COST IN LONDON, UK?
The price for the Profhilo treatment depends on the number of sessions needed, how long they last, and whether you need to come back for a booster treatment. In London, United Kindom a single Profhilo session costs around £400, and a course of 2 sessions around £650.
| DESCRIPTION | ONE SESSION |
| --- | --- |
| Eye Lines (Crows Feet) Skin Booster | £250 |
| Smile Lines (Mouth Lines) Skin Booster | £250 |
| Lips Skin Booster | £300 |
| Full Face Skin Booster | £420 |
| Full Face + Lips Skin Booster | £500 |
| Collagen Stimulator - Facial Rejuvenation | £750 |
| Profhilo | £395 |
| Profhilo Course of Two | £650 |