FAT DISSOLVING AQUALYX LONDON
ONE OF THE MOST POPULAR AND EFFECTIVE FAT REMOVAL AND BODY SCULPTING PROCEDURES.
• non-surgical fat removal
• pain-free
Aqualyx (also known as Intralipotherapy) is a revolutionary fat removal injectable, formulated to dissolve stubborn areas of fat and flawlessly contour the body. Aqualyx injections are biocompatible and biodegradable, causing the dissolution of fat cells, after which the body then expels the released fatty acids naturally through the lymphatic system.
Eating a healthy diet and exercise is good for the body but it does not allow for spot fat reduction. With the Aqualyx treatment, we can now locate and remove stubborn pockets of fat in any region you desire.
AQUALYX  is one of the most popular and effective fat removal and body sculpting procedures that the award-winning Hannah London clinic offers. This revolutionary treatment is for those who want to alter or lose stubborn pockets of fat in different areas of the human body.
What are the steps when getting Aqualyx?
The procedure varies slightly for each body part and it can take anywhere from 30 to 60 minutes.
There are three stages in which treatment takes place:
Step 1: Assessing The Chosen Area
We begin by cleaning the area to remove any excess makeup or dirt. After the cleaning, the doctor will assess the area and mark the safe zones where we will inject the product, we mark the skin to ensure safety and accuracy. 
After this, a small grid is applied to the same location which also helps with precision. 
Patients will be given a local anaesthetic or a numbing cream which will numb the area and make sure the procedure is as comfortable and pain-free as possible.the objectives are defined and the areas are addressed/marked. 
Step 2: Fat Dissolving Injections
Once the local anaesthetic has been applied and the area is numbed,  the patient will be gently injected with Aqualyx along the previously marked grid.
In some cases, the doctor may follow up with an ultrasound device, this helps ensure the fat dissolving injections have been evenly distributed.
Step 3: Clean Up
At the end of the procedure, the doctor will clean the area, making sure to remove any markings and the grid.
The patient can resume to normal life with the use of a compression belt during the first few days to avoid edema, pain relief and shape the body.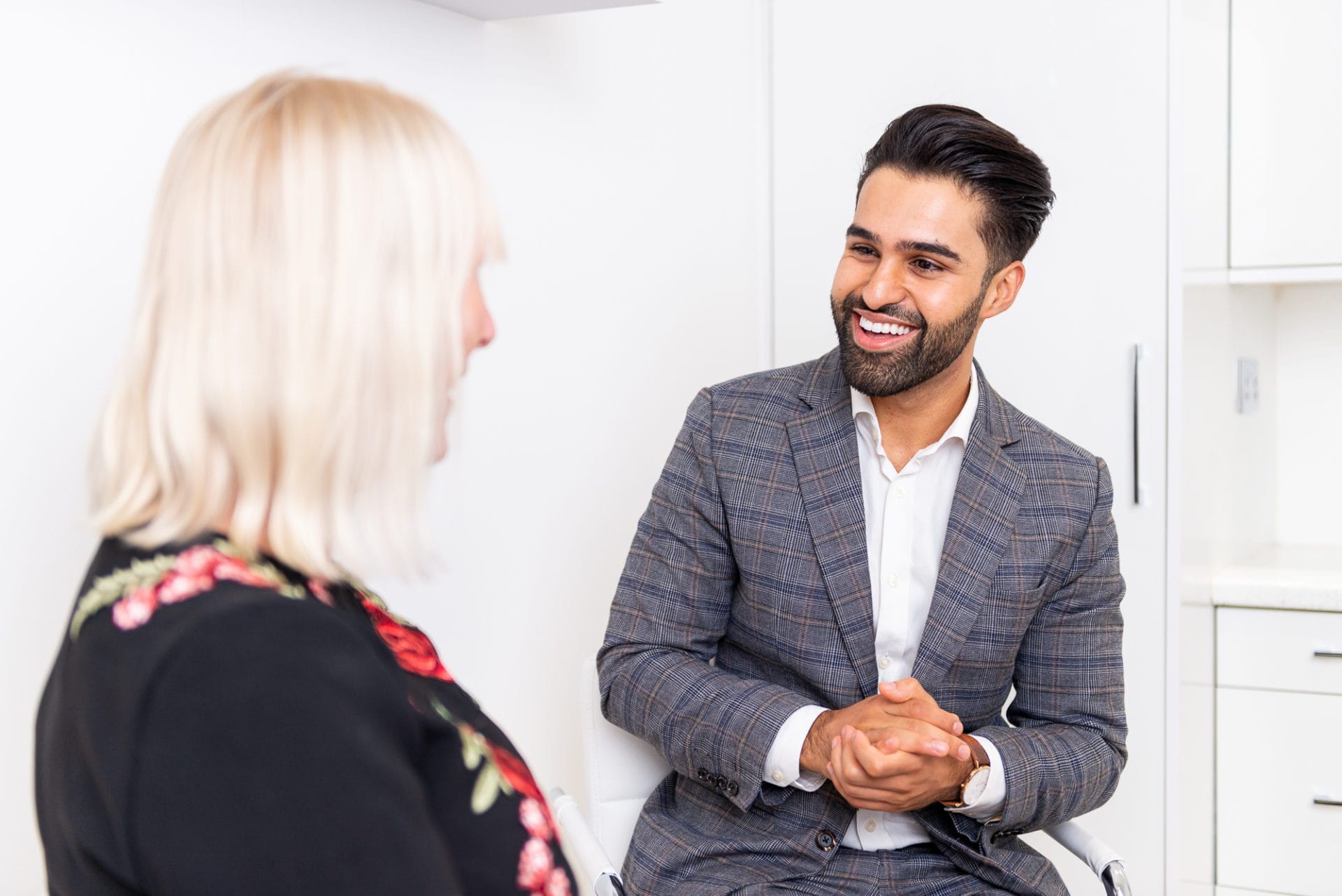 Book your FREE Aqualyx consultation below.
BOOK AQUALYX TREATMENT AT HARLEY STREET OR BEAUFORT PARK
Book your Aqualyx treatment online
Frequently Asked Questions
Let us answer some of the questions you may have below.
WHAT AREAS CAN BE TREATED WITH AQUALYX?
Aqualyx treatment can help target and eliminate excess of fat on; 
Face: double chin, jawline
Body: upper arms, armpits, waist, stomach, hips, knees, augmented fat deposits located on buttocks, and inner thighs
Much of our fat distribution is already predetermined by our genetics but thanks to Aqualyx we can now sculpt and shape our desired bodies.
Aqualyx is the perfect tool to alter the small pockets of fat we struggle to get rid of. This treatment can help you achieve the body of your dreams today!
HOW MANY SESSIONS OF AQUALYX WILL I NEED?
This is highly dependent on the chosen area; the type of fat being removed and how well your body responds will show how many sessions you need. closely follows the aftercare rules. The number of sessions required may vary from 2 to 5 sessions, with an average interval of 3 weeks between sessions.
The Aqualyx treatment is currently considered by specialists as the main alternative to liposuction.
ARE YOU THE IDEAL CANDIDATE FOR AQUALYX?
Aqualyx fat dissolving injections are ideal for those who are looking to alter their body shape on a smaller scale and want to focus on precise areas of fat deposits.
The thickness of the layer of fat into which the injection is made must be at least 2,5cm. It is not safe to inject the product in an area with less than 2cm of because we can affect the underlying skin and cause necrosis (tissue death) or even affect the muscle itself. 
It is recommended that if you are pregnant, breastfeeding, under the age of 18 or have any autoimmune diseases such as diabetes, lupus or arthritis then you may not be the ideal candidate and should NOT get Aqualyx injections.  It is contraindicated in case of chronic skin diseases in the area injected.
Secondly, having good skin elasticity is also recommended for this treatment. The elasticity is important to prevent sagging after the procedure.
If you're overweight or are willing to treat a big area, Aqualyx may not be the correct treatment. We advise you to see a professional who can help you reach your ideal IMC and then come back to us so we can come up with a bespoke treatment plan for you to reach your body goal.
If you have  any queries and want to know if you are the perfect candidate feel free to book a free consultation at Hannah London today.
DOES AQUALYX HURT?
To prevent any discomfort, a numbing cream or lidocaine can be applied by a doctor so the procedure can be as comfortable as possible.
It's normal for the patient to feel a burning sensation during the procedure and also a bit of discomfort for the next 3 following days. Bruises may appear but they will minimise in about 2 weeks. 
In addition, after application it is essential to drink lots of water and wear a compression belt to help increase the results and eliminate liquid.
HOW QUICKLY WILL I SEE RESULTS AFTER GETTING AQUALYX FAT DISSOLVING INJECTIONS?
Aqualyx treatment results can vary from person to person.
The results are visible around four days after the first session and are proven through measurements before and after each session. Full results are seen around the six-week mark.
HOW LONG DO AQUALYX FAT DISSOLVING INJECTIONS LAST?
It highly depends on the chosen area; the type of fat being removed and how closely the patient follows the aftercare rules such as keep a healthy diet and exercise. Remember, not even liposuction is permanent! 
There's no procedure that can permanently prevent the fat from coming back. Results are permanent as long as you maintain it. 
However, it is still possible to gain weight, in which case the area may increase in size again.
WHAT TO DO BEFORE THE AQUALYX PROCEDURE?
In order to help minimise the swelling post procedure it is recommended that patients avoid drinking any alcohol and do not take ibuprofen or aspirin.
WHAT TO DO POST AQUALYX TREATMENT?
Some swelling and bruising are expected, and this may last for 1-3 weeks but will decrease over time, this is 100% normal and safe. 
In order to help the swelling decrease as quickly as possible we recommend holding an ice pack against the swollen area. 
Patients are also recommended to attend a lymphatic massage or massage the area for five minutes three times a day to aid the dissolving of fat. 
If the procedure has been carried out on the body, then wearing tight garments is also recommended.
ARE THERE ANY SIDE EFFECTS TO AQUALYX?
Patients will experience swelling, redness and possible irritation of the skin. 
Very rare side effects include scarring however, this is very unlikely as we only have highly trained practitioners administering the injections.
HOW MUCH DOES AQUALYX COST IN LONDON?