CRYOLIPOLYSIS (FAT FREEZING)
Ideal for those stubborn pouches of fat that remain after the likes of diet and exercise have not worked.
What is Cryolipolysis fat freezing?
Fat freezing, also known as cryolipolysis (cryo-li-polysis) is a non-invasive procedure for the reduction of fat that uses a controlled cooling process to destroy the fat cells and reduce their volume.
Cryolipolysis can also be referred to as 'Cold Lypolysis', 'Lipo Freeze', or 'Cool Sculpting'. This fat freezing treatment is a non-surgical procedure that is used to freeze your fat cells from localised areas. The revolutionary and advanced cooling technology called 'Cryo Lipo' targets and carefully freezes fat cells underneath your skin (this process is called lipolysis).
Cryolipolysis is not intended to treat obesity and should not replace a healthy lifestyle. To maintain results, it is critical to eat a healthy diet and exercise regularly.
What areas of the body can the cryolipolysis treatment be performed on?
This popular treatment can be used for both men and women who want to lose weight from specific areas of the body such as:
Lower & upper abdomen, Hips, Back, Upper Arms, lower arms, forearms, elbow area, outer Thighs, inner thighs, bra or back rolls, upper legs, armpit area, bellybutton area. chest area. Waist area.
List of Fat Freezing Treatment areas
Arms : reduce underarm fat and the appearance of bingo wings

Chin : break down submental fat in the double chin area

Stomach / belly fat : break down fat stores that obscure your abdomen and 'six-pack' muscles Legs: remove fat across problem-prone areas of your legs, like the banana roll

Love handles / flanks : redefine and sculpt your love handles by reducing fat stores in this core area

Thighs: remove fat from your outer thighs inner thighs Bra Fat : reduce the appearance of bra roll fat

Back Fat : remove back fat across the upper, mid and lower sections of your back Ankles: minimise the appearance of fat bulges around your ankles

Knee fat : trim fat from your knee area
How does Cryolipolysis Fat Freezing work?
Cryolipolysis is a non invasive procedure that uses cold energy to target and reduce localized areas of stubborn body fat. This non-surgical treatment can be an alternative to liposuction. The process works by using cryogen spray technology, which causes tissue damage at sub freezing temperatures resulting in your unwanted fat cells being destroyed without damaging surrounding tissues or causing any discomfort during recovery. It's quick, painless and highly effective with no downtime required after treatment.
When the energy is extracted from fat layers, the process causes the fat cells to die gradually while leaving surrounding nerves, muscles, and other tissues unaffected. During the months after treatment, the digested fat cells are sent to the lymphatic system to be filtered out as waste.
What are the steps of cryolipolysis treatment?
To treat the targeted area, the trained aesthetician provider will apply a gel pad and applicator. Targeted fat is cooled using the applicator. Your provider will then move the device over your skin while administering suction and cooling technology to the affected area.
Cryolipolysis treatment itself takes anywhere from 35 to 60 minutes depending on the areas being treated and is a comfortable treatment with many patients able to easily check emails, read or even fall asleep during their non-invasive and effective treatment.
You can see results within days but full recoveries take around 4 weeks depending on how much you lose.
Book your free non-invasive fat freezing treatment consultation at Hannah London.
During the initial consultation, we will review your medical history, discuss your goals, and learn how to prep for the day of the fat freezing treatment.
We work with you to achieve a look that is natural, elegant, and desirable. By removing volume just where it's needed.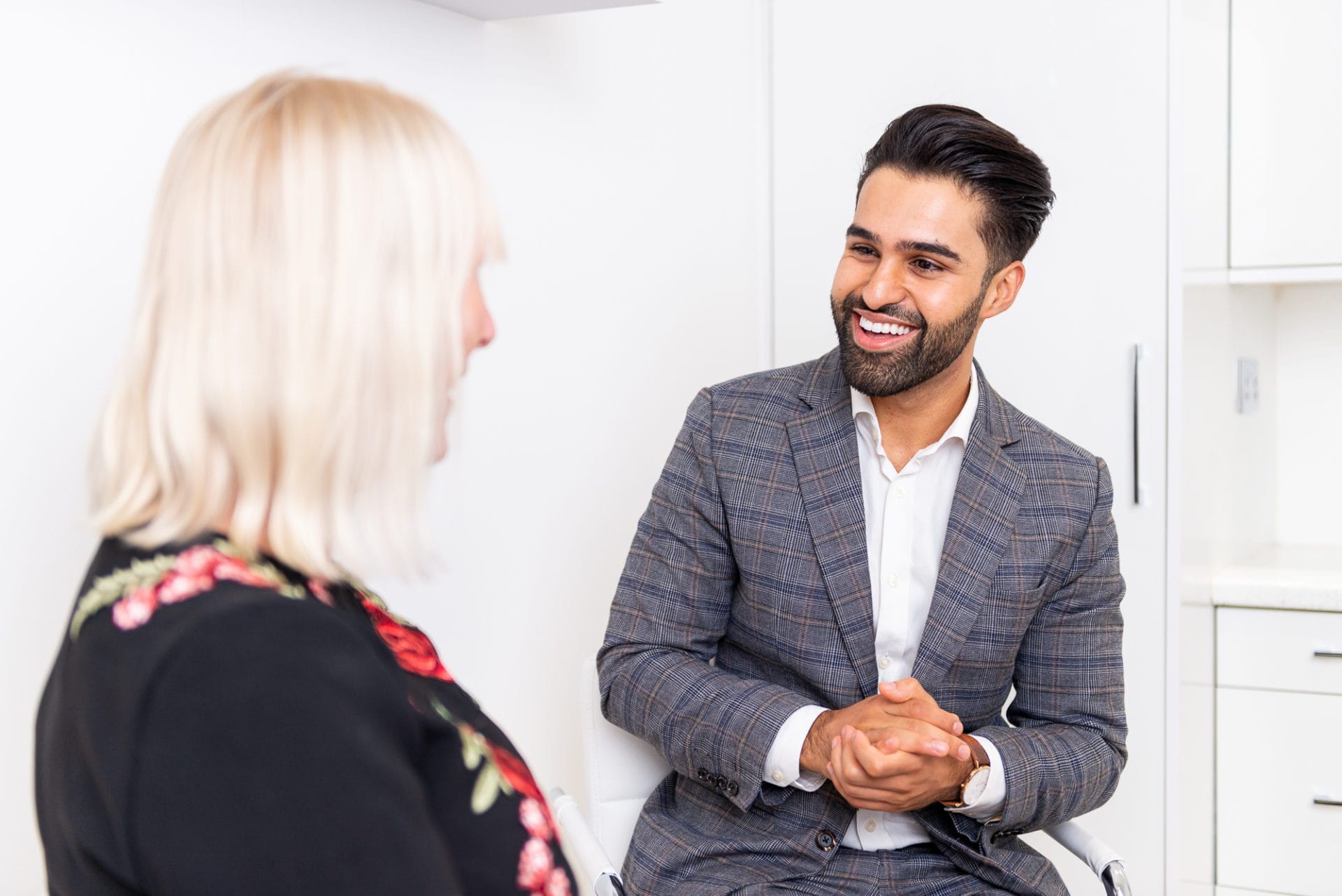 BOOK ONLINE
Book your Crylipolysis treatment at Harley Street or Colindale branch.
Frequently Asked Questions
Let us answer some of the questions you may have below.
IS FAT FREEZE TREATMENT FOR ME?
Fat freeze treatment works for anyone who is healthy, fit, and looking for a tool to eliminate body bulges.
WHAT ARE THE BENEFITS OF FAT FREEZING?
The treated area will gradually decrease in size, creating a smooth, toned appearance. Patients can benefit from noticeable yet natural-looking results in their problem areas, providing an overall smoother body contour.
Long-lasting results

It is a low risk procedure. There is no risk of infection

More than one area of the body may be treated in a single session.

Most people can resume their normal daily activities immediately after treatment.

There is no damage to nerves, blood vessels, muscles, or lasting damaging to skin in the treatment area.

Fat cells that have been damaged or destroyed are permanently removed from the body naturally

Patients may experience an increase in self-esteem due to an improvement in their appearance.
ARE THERE ANY SIDE EFFECTS FROM THIS PROCEDURE?
After your treatment, you may experience some temporary redness, swelling, bruising and skin sensitivity on the treated area. However this should go away within the 2 weeks post treatment.
DOES CRYOLIPOLYSIS WORK ON ALL PARTS OF YOUR BODY?
Fat Freezing is an effective non-surgical and non-invasive treatment which can be used by both men and women. It works effectively on almost every part of the body except face, hands, feet etc.
HOW MANY TIMES SHOULD I GET FAT-FREEZING TREATMENT FOR BEST RESULTS?
You may require more than one treatment session. But the doctor will inform you about this after a thorough consultation. Together we will design your personalised treatment plan in order to sculpt your body and achieve your desired goals.
WHEN DOES THE FAT FREEZING TREATMENT TAKE EFFECT?
Treatment results may be visible within three weeks of the procedure. It takes approximately two to three months for results to appear, and fat-flushing is expected to last up to six months after the first treatment.
IS CRYOLIPOLYSIS TREATMENT SAFE?
Yes! Fat freezing treatment is FDA-approved and successfully used on many patients around the world. The procedure has been FDA-approved to reduce stubborn fat stores across a diverse range of body areas. Cryolipo has been approved by FDA since 2013
DOES THE FAT FREEZING TREATMENT HURT?
No anaesthesia or numbing agent is necessary as Cryolipolysis is a simple, non-surgical treatment.
Cryolipolysis uses sub-zero temperatures to destroy fatty tissues without harming surrounding tissue. In fact, the only thing that gets destroyed here is the adipose cells – not even collagen fibres.
The procedure may cause some pinching and pulling feelings, but overall there is minimal discomfort. After treatment, the provider typically massages the treated areas to break up any frozen deep tissue. The body will then begin to absorb fat cells destroyed by this process.
HOW DOES A CRYOLIPOLYSIS CONSULTATION LOOK LIKE?
You will have a consultation with us at our clinic in London to help determine your suitability for Cryolipolysis. We will go through your medical history, body assessment, blood pressure, effects of treatment, and cost per treatment.
HOW LONG WILL I HAVE TO WAIT FOR POST-TREATMENT BEFORE I AM ABLE TO RETURN TO MY DAILY LIFE ACTIVITIES?
After every session we recommend that our clients rest until their skin has completely healed from previous treatments. This means they should avoid strenuous activity such as running, lifting heavy objects etc. They may also experience some bruising, swelling and redness where the treatment was performed.
WHAT IF I GET PREGNANT WHILE UNDERGOING THIS TREATMENT?
We advise all patients who wish to become pregnant not to undergo liposuction procedures prior to pregnancy due to the risk of complications during delivery.
HOW MUCH DOES CRYOLIPOLYSIS TREATMENT COST?
Everyone's body type and end goals are very different. After carefully assessing your body in person, we can give you the most accurate cost.
See our Fat Freezing price list below.
CRYOLIPOLYSIS (FAT FREEZING) PRICE LIST
| DESCRIPTION | ONE SESSION | FOUR SESSIONS |
| --- | --- | --- |
| Cryolipolysis (Fat Freezing) | £295 | £999 |