DERMAL FILLERS LONDON
SIMPLY ERASE FACIAL LINES AND WRINKLES BY FILLING THEM IN.
• replace the lost volume in your skin
• add natural-looking definition to your face
• no downtime
Have you recently found yourself staring at yourself in the mirror more and more? And each time you see yourself you notice a new line every time? Take a deep breath, don't stress because it can all be fixed with Dermal Fillers.
You might be wondering how do Dermal Fillers compare to Botox since both treatments use a needle?
Dermal fillers simply erase lines and wrinkles by filling them in. They also replace the lost volume in your skin. Dermal Fillers are known to smooth, lift and add natural-looking definition to your face. Dermal Fillers treatment is literally completed within seconds. The best part? There is almost no downtime and you can attend your important events looking fresh!
Read on, and let us give you a deep insight into what's involved in getting back your youthful appearance through a non-surgical dermal filler treatment and how dermal filler treatments differ from Botox, so you have a better understanding of which treatment suit you best for your needs at our clinic in London.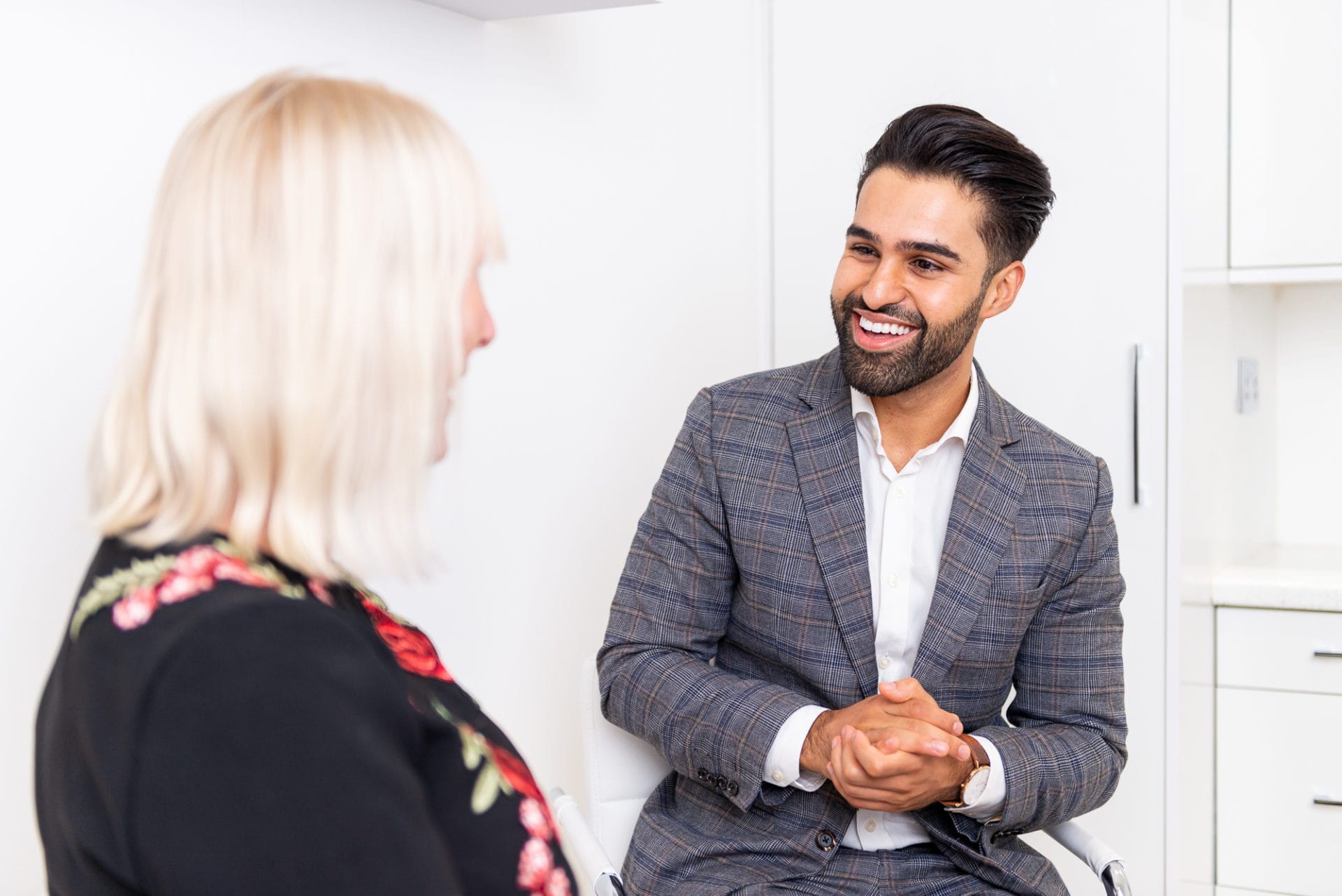 DERMAL FILLERS TREATMENT OVERVIEW
Results Duration
Up To 18 Months
Downtime
No Downtime, Return To Work The Same day
Anaesthetic
Topical Anaesthetic
Final Result

More Youthful, Plumped & Smoothed Out Appearance
Suitable For
Improving Lines, Crease And Wrinkles, Improving Volume
Dermal Fillers in London at an awarded clinic – Hannah London
Get dermal fillers in London at our advanced aesthetic medispa Hannah London. This Medispa is led by a highly trained, skilled, and qualified team with medical directors administering and overseeing our advanced aesthetics treatments.
At Hannah London, Dermal Filler treatments involve injections of a hyaluronic acid gel to hydrate, volumize, and structure facial features and to help balance your overall facial profile with immediate results and very little downtime. Hannah London uses the industry-leading Juvéderm product which is only available to qualified medical and aesthetic doctors. Dermal fillers provide a supple gel to the area that feels soft and smooth and makes for incredibly natural results to achieve a natural look that you love and one that will instantly show confidence in you. The dermal filler injections contain hyaluronic acid which works to hydrate the area being treated and are completed in one single treatment with results that last for months!
You can find more information on dermal fillers in our 'frequently asked questions' section below.
The main areas we treat Dermal Fillers are;
Tear Troughs – lines under eyes

Nasolabial Folds – commonly known as smile or laughter lines

Cheeks – to add volume

Nose – to straighten out any bumps or lumps with no downtime

Lip Fillers – to boost fullness or increase definition
Juvederm is the No.1 dermal filler collection in the world that offers 5 different products to meet your specific needs such as; adding volume to plump lips, smoothing lines around your face, or lifting & contouring cheeks. The base ingredient in Juvederm fillers is Hyaluronic Acid, when injected it helps you to temporarily bring back the volume in your facial features. Hyaluronic acid has minimal risk of reactions and is more accepted by the body than any other silicone or collagen fillers.
Hyaluronic Acid – The Key Ingredient
The main ingredient in our dermal filler injectables is Hyaluronic Acid. Hyaluronic Acid isn't the stripping kind of acid that we associate with "acids" if you think back to your Chemistry class back in school. In fact, Hyaluronic Acid is a gentle, bouncy gel-like substance that is naturally produced by our body to maintain moisture levels in both joints and skin. This special acid works as a magnet for moisture that makes your skin feel and appear hydrated, healthy & plump.
With age, our naturally occurring hyaluronic acid in our body declines, and as a result wrinkles and lines start to appear on our faces. Therefore it is a great ingredient for ageing skin to retain that healthy & hydrated skin.
When Hyaluronic Acid is present in a serum or a moisturizer and is topically applied, it helps to hydrate the skin and maintain the skin's hydration.
Dermal Fillers Treatment Types at Hannah London
Dermal Fillers Before & After
Tear Troughs – lines under eyes
When trusting someone with your face, we cannot stress enough, the importance of choosing the right practitioner who has your overall health and wellbeing in mind.
At Hannah London, you can have confidence in our licensed dermal filler specialists and qualified doctors like Dr.Kaywaan. All our therapists and aestheticians are highly trained and with years of experience. See our team here.
Don't think twice, book your free dermal filler consultation below.
Say Goodbye to lines & wrinkles. Say Hello to confidence & youthfulness.
BOOK YOUR DERMAL FILLER TREATMENT OR SCHEDULE A FREE CONSULTATION BELOW
BOOK DERMAL FILLER TREATMENT AT HARLEY STREET OR BEAUFORT PARK
Book your dermal filler peel treatment online
Frequently Asked Questions
Let us answer some of the questions you may have below.
WHAT ARE DERMAL FILLERS?
Dermal Fillers are non-surgical injectables of gel approved by the FDA to help smooth skin and fill wrinkles.
Dermal Fillers are not to be confused with Botox – freezes muscles to reduce wrinkles caused by facial expression.
Hyaluronic acid is one of the popular types of dermal filler, as it helps your skin to retain moisture, makes your face look more plump and hydrated.
Even though hyaluronic acid is used in many facial moisturizers, there is no cream that can restore that youthful volume lost over the years, unlike injectable hyaluronic acid fillers.
IS THERE A DIFFERENCE BETWEEN DERMAL FILLERS AND BOTOX?
Yes, there is a 100% difference between Dermal fillers & Botox! Botox "freezes" the small muscles in your face from making the movements that cause wrinkles. Dermal fillers plump your skin from below the wrinkles to smooth them out and promote a youthful look.
Botox® is the brand name that has become widely known due to the active ingredient it uses called Botulinum Toxin. Administered by injection (the treatment is also referred to as anti-wrinkle injections), it targets and relaxes the muscles which works to greatly reduce the appearance of fine lines and wrinkles on the face while smoothening the overall area(s) treated. Hannah London will only ever use the authentic branded Botox® which is only administered by our highly trained, skilled, and experienced aesthetic doctors.
The main areas we treat Botox are
Forehead "worry lines" – formed when we raise our eyebrows
Glabellar "frown lines" – the area between the eyebrows
Crow's Feet – the areas around the outside of the eyes. Wrinkles form here when we squint or smile.
Wrinkles over the bridge of nose-bunny lines
Nefertiti neck lift-tightens jawline and eliminates 'turkey neck'
Dimpled chin
Smokers lines
WHAT HAPPENS AT A DERMAL FILLER CONSULTATION?
To achieve the results you want, we believe it starts with a thorough consultation. Our highly trained practitioners will take their time to discuss different aspects of your skin you may be unhappy with, your desired results, costs, and the best treatment plan to achieve your results. Our number one aim is for you to leave your free consultation feeling confident, fully informed, and looking forward to your treatment. The highly trained team in Hannah London clinic will work with you to create the look you desire, with subtle, but instant results.
WHAT HAPPENS DURING A DERMAL FILLER TREATMENT?
For specific dermal filler procedures, a topical anesthetic is first applied and is left to numb the skin for 20-30 minutes before the dermal filler injections. The dermal filler is then injected into the area required using a very fine needle. Results can be seen immediately with certain fillers.
ARE DERMAL FILLERS SAFE?
Dermal Fillers are usually safe and effective. These are medical treatments, therefore there can be some risks as with any skin injectables. However, when dermal fillers are done with a professional and licensed doctor, you minimize these risks. If something does go wrong, you can have confidence that you are with a doctor who is skilled and has the medical training to act fast.
The number one risk of dermal fillers is when injected wrong, the filler can enter a blood vessel which can block blood supply in the face causing blindness or stroke.
DO DERMAL FILLERS HURT?
There may be a slight discomfort whilst the filler is being injected into the face. But we minimize this by applying an anesthetic cream before treatment.
HOW LONG DOES THE DERMAL FILLER TREATMENT LAST?
Dermal Fillers last between 6 – 18 months. After about six months, your body naturally breaks down hyaluronic acid fillers. So, you have the option to get touch-ups once or twice a year to maintain the look.
IS THERE ANY DOWNTIME WITH DERMAL FILLERS?
With Juvederm™, there is very minimal downtime. Following dermal filler treatment, for 24 hours you should avoid intense exercise, excessive sun or heat exposure, and consumption of alcoholic beverages in order to help minimize the risks of temporary redness, swelling, and/or itching at the treatment sites.
WHAT ARE THE SIDE EFFECTS OF DERMAL FILLERS?
The most likely side effects are redness and swelling at the injection site—the same as any needle injection which is completely normal. However, these reactions shortly disappear straight away after the injection and you can go about your day. It is very important to see an experienced doctor who is skilled in performing the dermal fillers treatment.
Book a free consultation with one of our top Aestheticians or Doctors for more information.
CAN ANYONE RECEIVE DERMAL FILLERS?
Dermal Fillers can be used for all ages. Over 25 as this is the time when elastin and natural hyaluronic acid start to diminish in our faces resulting in the 'nose to mouth' lines and wrinkles. Even patients who are in their 50s, 60s and older, can also receive dermal fillers if they are concerned about their looks. However, dermal fillers are equally as popular with people in their 30s and 40s who are just starting to lose that initial glow of youth and the first lines starting to appear. Avoid receiving Dermal Filler injections if you have severe allergies or allergic to lidocaine or the Gram-positive bacterial proteins used in Juvederm products.
WILL DERMAL FILLERS DRASTICALLY CHANGE MY FACE?
No, you will not look dramatically different after your dermal fillers treatment. Our practitioners approach each patient as an individual work of art. Our doctors are like artists, making sure your facial features retain harmony, balance, and remain true to your own look. Our aim is to enhance giving you subtle instant results, not drastically change. During your free consultation, your doctor or aesthetician will discuss the best plan for you to achieve the results you desire.
CAN I SLEEP ON THE PART OF MY FACE WHERE I GOT DERMAL FILLERS?
It is advised to sleep flat on your back and try not to sleep with your face flat on the pillow or on your sides for 24 hours.
CAN I WASH MY FACE NORMALLY AFTER RECEIVING DERMAL FILLERS?
Yes, you can wash your face normally with gentle pressure. You can also apply your regular skin routine including SPF sunscreen with gentle pressure.
WHAT ARE THE BENEFITS OF DERMAL FILLERS?
Dermal filler is a cosmetic facial procedure that gives you a professional, natural-looking, and non-surgical fullness to your face.
Dermal Fillers, especially with Hyaluronic acid diminish the most common signs of aging such as marionette lines and skin folds.
Dermal fillers help with volume loss on your cheeks, jawline, or lips as well as helping with dark circles. By filling in lines on your face, your facial appearance becomes plumper, hydrated, and youthful.
Most women, especially celebrities use dermal fillers to make themselves look younger. You will also gain a boost of self-confidence because when you look good, you feel good. Another benefit is instant results right after the filler injection has been carried out and with no downtime. You can look forward to long-lasting results and come into our clinic if you need any touch-ups in the meantime.
HOW MUCH DO DERMAL FILLERS COST?
The price of the dermal fillers will mainly depend on the type of product that is used. Some filler brands are much cheaper than others.
This may be due to the fillers not being FDA approved or they do not last very long. Most clinics will charge based on the amount or quality of filler that is used.
We use the top brand like Juvederm that has undergone many years of testing and research and holds outstanding properties. Most syringes of filler are 1ml and prices will correspond to that amount.
| | |
| --- | --- |
| Cheek Filler | from £350 |
| Chin Filler | from £350 |
| Jawline Filler | from £350 |
| Nose to Mouth Lines (Nasolabial Folds) | £350 |
| Nose Filler | £350 |
| Tear Trough | £350 |
| Temple Fillers | £350 |
| Midface Package | from £795 |
| Profile Balancing | from £950 |
| Profile Balancing | from £950 |