HYDRAFACIAL
HydraFacial™ is an award-winning, revolutionary, and anti-aging Hydradermabrasion Facial procedure that:
• softly exfoliates
• intensely hydrates
• reduces the appearance of fine lines on your skin
What is HydraFacial treatment you may be wondering?
HydraFacial is an award-winning, revolutionary, and anti-aging Hydradermabrasion Facial procedure that softly exfoliates, intensely hydrates, and reduces the appearance of fine lines on your skin.
The exclusive HydraFacial Vortex-Infusion technology of this treatment implements non-abrasive methods that instantly improve the quality of your skin tone and texture. The Hydrafacial 'handpiece' contains Hydro Peel tips with a unique spiral structure that contains strong suction forces with adjustable levels of exfoliation strength. This simultaneously strips the skin of unwanted impurities and pumps in a cocktail of nourishing serums that the skin craves.
This medical-grade treatment can also be customized to suit your specific skincare needs by adding a diverse range of "boosters". These boosters work to tailor the treatment to your distinct skincare struggles.
This 'celebrity favorite' treatment delivers instant and long-lasting results leaving your skin feeling radiant. If you want to improve the health and quality of your skin then this popular treatment is a must-have!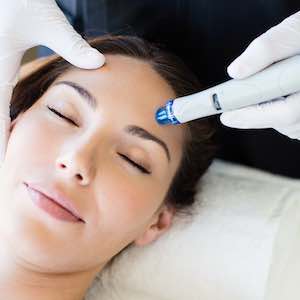 What are the main steps of a HydraFacial treatment?
This treatment combines the six-step process of:
At Hannah London, you can have confidence in our HydraFacial specialists.
All our therapists and aestheticians are highly trained and with years of experience. See our team here.
Treat yourself today, save £££, and get glowing with our HydraFacial treatment at Hannah London.
Goodbye, dull skin.
Don't think twice, book your free Hydrafacial consultation below.
Gorgeous skin is only a HydraFacial away!
BOOK HYDRAFACIAL TREATMENT AT HARLEY STREET OR BEAUFORT PARK
Book your Hydrafacial treatment online
Frequently Asked Questions
Let us answer some of the questions you may have below.
WHAT IS THE HYDRAFACIAL PERK?
The lips and eyes are the first features of the face to show signs of dehydration. This can leave you with dark circles around the eyes and dry flaking lips. The Perk is an additional (optional) step in Hydrafacial treatments and designed to saturate these areas with special serums for added rejuvenation to maximize your skin's appearance. It works to deliver an ultra-boost of hydration to quench the extra delicate areas of the face. The lip Perk is carefully curated to plump and exfoliate the lips with a revitalizing serum that you can take home to maintain your enviable results. The eye Perk uses an intense replenishing serum to banish dark under-eye circles and illuminate your skin. Your complexion will thank you for adding this bonus stage to your already incredible facial.
This non-invasive dermabrasion process allows you to enjoy the visible results of stunning skin immediately post-treatment, with no downtime needed and no irritation felt.
ARE THERE ANY SIDE EFFECTS WITH HYDRAFACIALS?
This is a safe and trustworthy skincare treatment with no side effects. Some patients may experience redness and tightness after the facial for a few minutes however, this quickly passes. This is the ideal facial to do right before an important event if you desire excellent results in a short amount of time, with no recovery needed.
DO HYDRAFACIALS BENEFIT ALL SKIN TYPES?
The HydraFacial is effective in treating people of all different ages with varying skin types. The specialized chemical exfoliants implemented are highly beneficial for handling everyone's diverse skin concerns. The HydraFacial can be effortlessly customized by adding a variety of diverse "boosters" to provide you with a highly personalized procedure. Different LED enhancements can be chosen to better target your personal requirements and are proven to lessen unwanted insecurities by targeting them at their core.
IS HYDRAFACIAL GOOD FOR DRY SENSITIVE SKIN?
This treatment is perfect for people with sensitive skin as it will not irritate or inflame the epidermis due to its non-invasive nature. Its hydrating qualities will quickly replenish dry skin.
IS HYDRAFACIAL GOOD FOR ACNE?
People who are acne-prone can benefit from HydraFacial because it rids the skin of pore-clogging elements through exfoliation and extraction which also reduces pore size. Collagen promoting factors regenerate skin cells which help with acne scarring. The blue LED light successfully prevents breakouts as it kills bacteria that live on the face and body which can cause spots to form.
IS HYDRAFACIAL GOOD FOR ANTI-AGEING?
This facial is the perfect anti-aging treatment to help reduce the appearance of fine lines and wrinkles. The innovative nozzle delicately extracts debris which diminishes the presence of fine lines. The constant supply of hydrating solutions boosts your skin's elasticity and glow, all without the use of a laser. The red LED light helps restore youthful skin as it smoothens fine creases and wrinkles. A popular choice of a booster that rejuvenates tired skin is the Dremabooster which works by restoring broken capillaries, enlarged pores, and decreases redness. This booster is perfect for people with anti-aging interests.
IS HYDRAFACIAL GOOD FOR HYPERPIGMENTATION?
The Glysal serum used in the Vortex Peel helps resurface the skin leaving it brighter and lighter with an even tone, meaning it is amazing for reducing hyperpigmentation and other forms of dark spots, brown spots, and sun damage on the face and body. Britenol is a booster that targets pigmentation problems with specific ingredients like vitamin C which helps brighten dull skin tones.
A skin type with rosacea, active rashes, and sunburns are the only skin conditions in which a HydraFacial cannot be performed on.
HydraFacial treatment is the best multitasking treatment on the market allowing you to do more in less time. It assists you in achieving the best skin of your life on your face and body. If you are interested in all of the boosters Hannah London clinic offers, book a free consultation.
CAN I GET A HYDRAFACIAL ALONGSIDE OTHER PROCEDURES?
This rejuvenating facial is great at supplementing the work of other procedures as it hydrates the skin which may have been left dehydrated. The new Vortex-Infusion technology is perfect for moisturizing and removing any excess dead skin cells and impurities leftover from treatments such as a chemical peel. Hydrafacial treatments can even be done on the same day as getting injectables.
HOW OFTEN SHOULD YOU GO FOR A HYDRA FACIAL TREATMENT?
Aestheticians recommend people get one treatment monthly to feel the effects of refreshed and plum skin all year round.
DOES A HYDRAFACIAL HURT?
We are happy to say that this treatment is a luxurious, relaxing, and PAIN-FREE experience. This facial is non-invasive and does not puncture the skin, instead, a spiral tip reinforced with a nozzle for suction is used to purify and rehydrate skin. Patients often report the facial has a comfortable and gentle massaging effect.
HOW LONG DOES A HYDRAFACIAL TREATMENT LAST?
This popular detoxifying treatment lasts between 30 and 60 minutes.
HOW MUCH DOES A HYDRAFACIAL TREATMENT COST IN LONDON?
HydraFacials is one of the more affordable and minimally invasive skin treatments available and in the London, UK the treatment can cost anywhere from £89 to £250 per single treatment. The official HydraFacial contains 6 steps and should last an hour using official HydraFacial products. Other clinics may offer 3 steps over a 30 minute treatment.
| Treatment | Price per Session | Duration | Description |
| --- | --- | --- | --- |
| Hydrafacial | £140 | 30 min | Award-winning 5-step treatment using patented technology to gently cleanse, extract, and hydrate with nourishing super serums for a delightful glow |
| Hydrafacial Deluxe | £180 | 45 min | Luxurious 6-step treatment, including detox, brightening, and rejuvenation, enhanced with Lymphatic Therapy and Red and Blue LED Light Therapy |
| Platinum Hydrafacial | £230 | 60 min | Bespoke treatment tailored to suit individual skin needs, including a custom booster to address unique concerns for the best customized experience and results |
| Signature Hydrafacial | £300 | 75 min | Comprehensive treatment featuring a custom booster, Eye and Lip Perk, gently cleansing and hydrating the most delicate parts of your face while targeting specific concerns for stunning, revitalized skin |
| Ultimate VIP Hydrafacial | £350 | 2 hours | Indulgent experience with Signature treatment, relaxing massage, and ritual, treating your body and soul for the best individualized experience and complete spa getaway |