LIP FILLERS LONDON
ONE OF OUR MOST POPULAR TREATMENTS
• hydrated lips
• volumized, defined & smooth lips
• natural-looking
Lip Fillers at Hannah London
Our advanced & award-winning Hannah London aesthetic medispa provides you with the best lip fillers in London. This Medispa is led by a highly trained, skilled, and qualified team with medical directors administering and overseeing our advanced aesthetics treatments.
Lip fillers are non-surgical injectables that are part of the dermal filler family. Lip fillers are the perfect solution to add extra volume and shape to the lips with immediate results.
The filler is made with hyaluronic acid – a naturally occurring substance that helps to plump and hydrate the lips while also helping to smoothen lines to leave you with supple lips and a stunning natural look.
As we approach our mid-twenties, we begin to lose our collagen & hyaluronic acid that is naturally produced in our skin & bodies. In order to reverse the aging process, lip fillers, and dermal fillers are a great way to restore youthfulness on our faces. Full lips are associated with youth, so a lip filler treatment could just be the thing if you want to enhance your lips or correct an irregular lip shape.
You can have the confidence in our skilled & professional team to get the best looking beautiful lips at our award-winning Hannah London clinic.
First Time Lip Filler in London Before and After Review & Client Testimonial
First Time Lip Filler in London Before and After Review & Client Testimonial
Only ever using Juvéderm filler. Juvederm is the No.1 dermal filler collection in the world that meets your specific needs such as; adding volume to plump lips, smoothing lines around your face, or lifting & contouring cheeks. The base ingredient in Juvederm fillers is Hyaluronic Acid. Hyaluronic Acid is a gentle, bouncy gel-like substance that is naturally produced by our body to maintain moisture levels in both joints and skin. This special acid works as a magnet for moisture that makes your skin feel and appear hydrated, healthy & plump. When injected it helps you to temporarily bring back the volume in your facial features. Hyaluronic acid has minimal risk of reactions and is more accepted by the body than any other silicone or collagen fillers.
Our aesthetic doctors take an artistic approach to add shape, size, and fullness to your lips – with results that remain for months. We always use a numbing cream to ensure maximum comfort throughout your treatment.
The DR. K. Lines
A Lip Filler technique developed by Dr. Kaywaan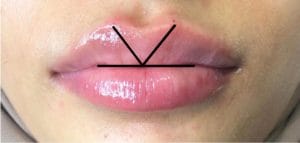 Our resident aesthetic Doctor Kaywaan has extensively studied the lips and has developed his trademark Dr. K Lines method. This method makes use of lines that take into account the ideal width and size of the bottom lip – while connecting two further lines that peak at the Cupid's Bow of the top lip.
By plotting these Dr. K Lines at your lip filler consultation and appointment, he ensures that everything to do with your lips and facial features are perfectly aligned, balanced, and harmonised. Dr. Kaywaan's lip fillers go beautifully beyond the basic for your aesthetic with his trademark Dr. K lines.
Lip Fillers Before & After
Juvederm Ultra smile 0.55ml
Book your free Lip Filler treatment consultation at Hannah London.
During the initial consultation, we will review your medical & cosmetic history, discuss your goals (subtle definition versus major volume), and learn how to prep for the day of the lip filler treatment.
We work with you to achieve a look that is natural, elegant, and desirable. By adding volume just where it's needed, you'll fall in love with your new lips.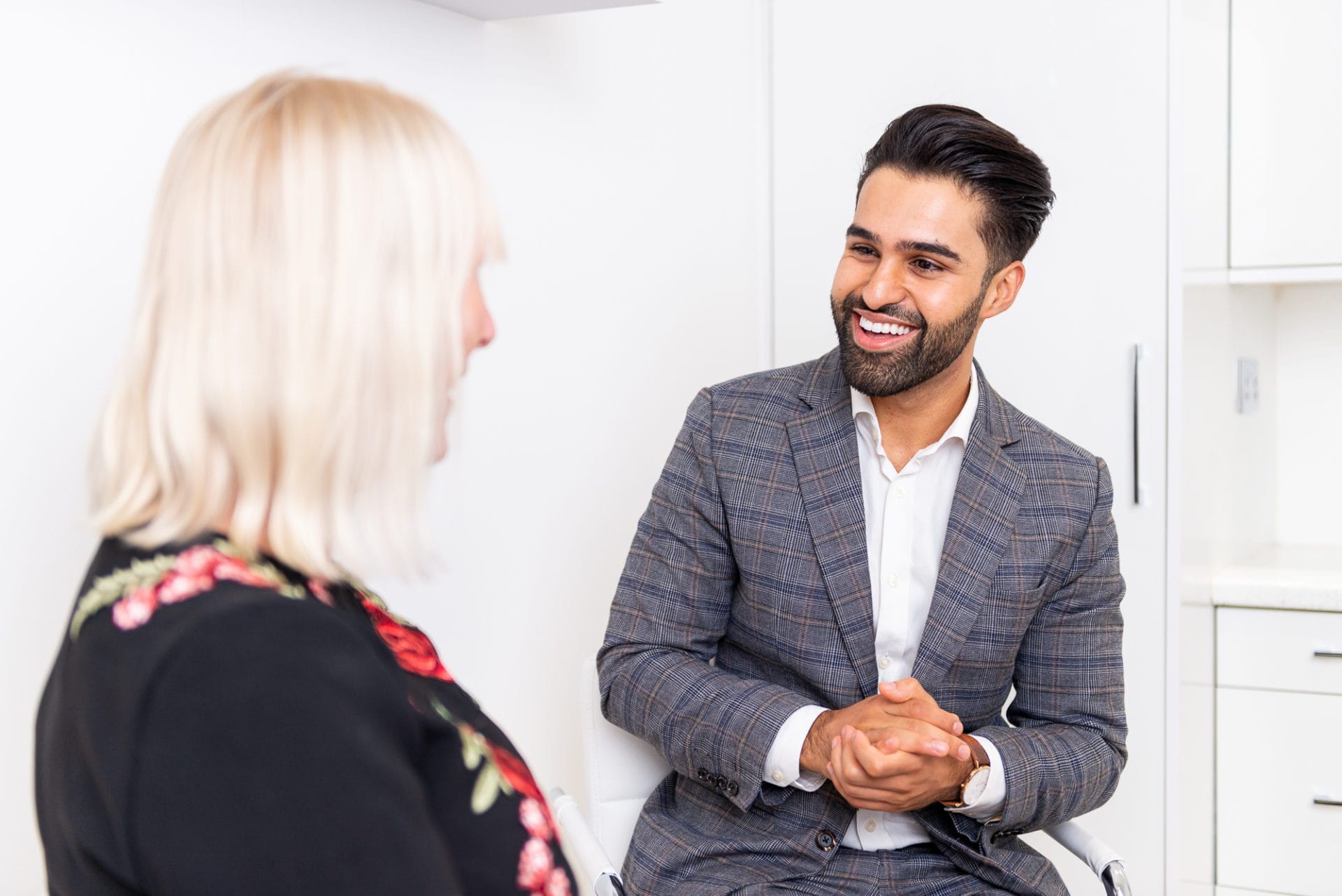 To get the most out of the youthful appearance of your lips, we also offer Dermal Fillers which are also effective for smoothing out the lines around the mouth area or any other lines and wrinkles on your face.
BOOK LIP FILLER TREATMENT AT HARLEY STREET OR BEAUFORT PARK
Book your Lip Filler treatment online
Frequently Asked Questions
Let us answer some of the questions you may have below.
HOW LONG DO LIP FILLERS LAST?
Lip fillers last about 3 to 12 months.
This can vary depending on several factors including the volume of filler injected or even lifestyle factors, such as smoking or sun exposure, which can also affect how long the results last as well as how quickly your body breaks down the filler.
If you notice they begin to wear off – you can come in for a touch-up appointment to maintain your lip augmentation.
ARE LIP FILLERS PERMANENT?
Lip fillers are not permanent.
Lip fillers only add temporary volume and definition.
DO LIP FILLERS HURT?
To minimize the discomfort of the injectables for the filler itself, we always apply a numbing cream.
Lips are very sensitive, therefore the only feeling you may feel is the pricking sensation of the needle.
ARE LIP FILLERS SAFE?
At Hannah London, every client seeking injectable treatments with lip fillers is given an in-depth consultation that examines your facial features and expectations.
We use the highest grade lip filler solutions from Juvederm.
Our clinics are safe, medical environments and your treatment will be carried out only by a highly qualified doctor.
HOW LONG UNTIL I CAN APPLY LIP PRODUCTS?
No makeup or product should be applied to your lips for at least 12 hours following your lip filler treatment.
HOW LONG DOES A LIP FILLER TREATMENT TAKE?
A lip filler treatment can take up to less than an hour.
Firstly the lips area is cleansed.
Secondly, a numbing cream is applied topically which can take around 20-30 mins to work.
Lastly, the lip filler injections take place that can last up to 30 minutes.
WHAT BENEFITS DO YOU GET FROM RECEIVING LIP FILLERS?
Lip fillers;
Bring fullness to thin lips

Enhance lip definition

Create a more defined smile

Give the mouth area a youthful appearance

Hydrate the lips due to hyaluronic acid

Boost confidence

Tailored to your needs – giving you a natural look

No downtime
ARE THERE ANY SIDE EFFECTS WITH LIP FILLERS?
There are no major side effects post-treatment of your lip fillers.
You may notice some tenderness, redness, or swelling which is very normal and will fade within a few days.
Please make sure NOT to touch your lips for 48 hours after the injections.
Also, note to avoid exercise for a few days.
HOW MUCH DO LIP FILLERS COST IN LONDON?
Lip fillers provide you with plump, hydrated & defined lips.
A higher price tag often means you're paying for an injector's experience.
Lip filler treatments are often combined with Dermal Fillers to treat lipstick lines and to create bigger lips with a more rejuvenated and youthful appearance.
Our prices begin from £199.
LIP FILLERS PRICE LIST
Lip Fillers (0.5ml – 1ml)
£350