SCALP MESOTHERAPY - MESOTHERAPY FOR HAIR LOSS
• minimizes hair loss
• safe and painless
• provides nutrients directly to the scalp
• stimulate and encourage hair growth

Mesotherapy is a technique that involves injecting vitamins, enzymes, hormones, and plant extracts into the skin in order to tighten it and remove excess fat. The technique uses very fine needles to deliver injections into the middle layer (mesoderm) of the skin. The term 'meso' is derived from the mesoderm also known as the middle layer of the skin (1mm in depth). The goal of mesotherapy is to stimulate the mesoderm and treat the underlying factors that cause skin damage such as poor circulation and inflammation.
Mesotherapy can be used to:
remove fat from areas such as the stomach, thighs, buttocks, hips, legs, arms, and face
reduce cellulite
reduce wrinkles
reduce sagging skin
treat conditions that cause hair loss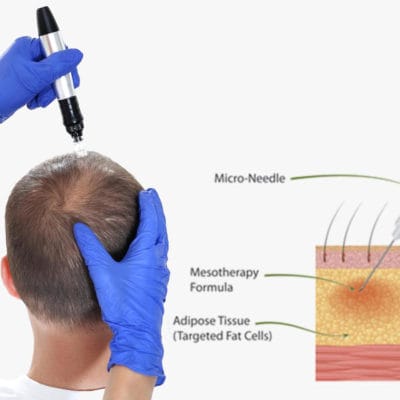 Mesotherapy for Hair Loss
Mesotherapy is an effective hair loss treatment for hair thinning and baldness which can be more effective than tablets in hair rejuvenation.
Mesotherapy for hair loss is a minimally invasive scalp treatment that promotes hair regrowth while solving your hair concerns. The hair mesotherapy technique delivers the right amount of hair nutrients to the exact place where it is needed so that the hair follicle can grow and survive, and also neutralise the DHT (dihydrotesterone). The reason to neutralise DHT is this hormone is overproduced causing reduced hair growth or androgenetic alopecia.
The hair loss solution contains a combination of different vitamins, minerals, nucleic acids and amino acids. When this nutrient-rich cocktail is injected into the scalp, the supply of nutrients is received directly to the hair follicle. In addition to promoting effective blood circulation, this type of therapy provides nourishing nutrients to the hair follicles, leading to hair regrowth.
Types of Hair Loss
The various forms of hair loss can be confusing for those who are simply looking for a solution to their problem. Simply put, bald spots and thinning areas on your scalp that previously weren't there are indicators that you are losing your hair. Hair loss may occur due to a number of reasons.
Hair loss can be caused by:
severe stress
lack of nutrients,
hormonal imbalances
pregnancy
reduced blood circulation
androgenic alopecia
Hair Mesotherapy treatment at Hannah London will help you treat these problems and as a result, will revive your natural hair growth.
Hair Mesotherapy Benefits
Scalp micro-needling has so many benefits and is favoured by many suffering reductions in hair fall and hair loss. This form of hair treatment allows a targeted and direct supply of vital nutrients deep into the dermis layer of your skin that trigger the growth factors. There is no other hair treatment that can provide this technique. See Mesotherapy Hair benefits below;
Encourages growth of hair
Revitalises and strengthens the hair follicle
Regains confidence and self-esteem
Increases hair density
Fuller hair and healthier hair
Safe & effective alternative to surgery
Minimally invasive and non-surgical treatment
Pain-free
How does Hair Mesotherapy work?
Hair Mesotherapy is a quick 30 minutes session.
We will begin with a consultation where we assess your scalp. This way we will be able to tell what your scalp lacks and why you have been experiencing hair loss.
Following the consultation, we will prepare a solution by mixing the ingredients customised for the results you desire from the treatment.
Local anaesthetic is applied to the scalp to numb the areas being worked on.
The micro-injecting device is filled with solution and then injected into the middle layer of the skin of the targeted problematic areas, delivering a cocktail of nutrients to the hair follicle. This induces a healing process and stimulates the blood circulation around the follicle which causes the hair follicle to grow and survive.
Scalp Mesotherapy Before & After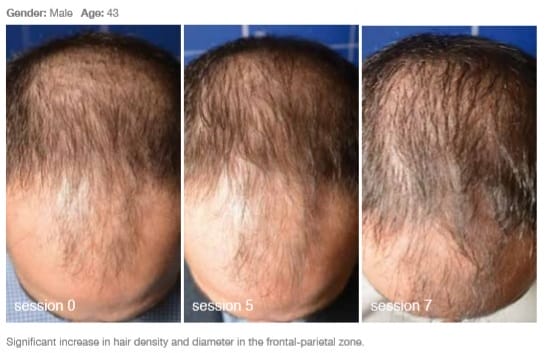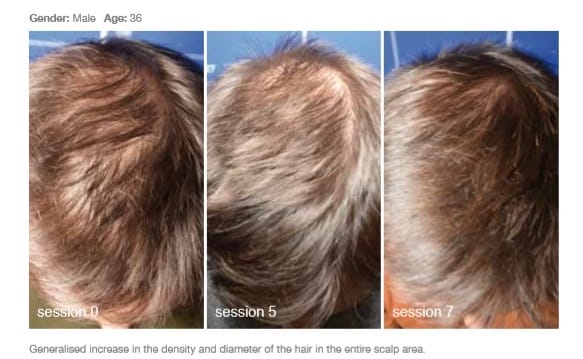 BOOK SCALP MESOTHERAPY TREATMENT AT HARLEY STREET OR BEAUFORT PARK
Book your scalp mesotherapy treatment online
Frequently Asked Questions
Let us answer some of the questions you may have below.
WHO IS THE IDEAL CANDIDATE FOR HAIR MESOTHERAPY?
An ideal candidate for hair mesotherapy can be if you are physically healthy but experiencing early hair loss, baldness, or thinning. This treatment is very effective in improving the density of existing hair, however, it may not work on regenerating hair growth on already formed bald patches, this way an alternative treatment may be needed like a hair transplant.
Contact Hannah London today to schedule a free consultation if you are unsure or have any questions about whether Hair Mesotherapy is the right treatment for you.
DOES HAIR MESOTHERAPY HURT?
Hair mesotherapy is a painless treatment, however, you may feel a slight prick on the scalp. For your comfort, a numbing cream is applied.
IS HAIR MESOTHERAPY A SAFE TREATMENT?
Hair Mesotherapy is an advanced and minimally invasive solution for hair thinning and baldness compared to invasive surgical treatments. This assures that hair mesotherapy treatment is a safe experience.
WHAT ARE THE POTENTIAL SIDE EFFECTS OF HAIR MESOTHERAPY TREATMENT?
The side effects of hair mesotherapy are very minimal. It is a quick procedure where there is no recovery time needed. You may experience some swelling, redness and tenderness which are all normal. These effects will calm down and pass after 48 hours. This makes the downtime minimal, meaning you can go back to your daily activities straight away and don't need to take long time periods off work.
CAN I WASH MY HAIR AFTER MY MESOTHERAPY TREATMENT?
Yes, you can wash your hair four to six hours after treatment.
HOW MANY SESSIONS OF HAIR MESOTHERAPY ARE NEEDED UNTIL I SEE RESULTS?
You may see an improvement in your scalp and hair after just 1 single treatment, however, a course of hair mesotherapy sessions is recommended for the hair regrowth stimulation to take full effect. Then we may discuss maintenance sessions depending on your hair loss.
HOW LONG DO HAIR MESOTHERAPY RESULTS LAST?
For optimum results, a course of 6 sessions is recommended. Once completed, the results can last from 12-18 months.
WHAT ARE THE INGREDIENTS USED IN HAIR MESOTHERAPY?
In Mesotherapy, 'Acetyl tetrapeptide-3 and 'Biochanin A' are the two main ingredients. Acetyl tetrapeptide-3 works on minimizing inflammation, modulating DHT, and anchoring proteins into your scalp, but Biochanin A treats your ailments and relieves the symptoms of female pattern baldness.
HOW MUCH DOES HAIR MESOTHERAPY COST?
The cost of mesotherapy depends on the type of treatment you're getting and the number of sessions you need. In general, a single session costs between £150 – £220.
SCALP MESOTHERAPY PRICING
| DESCRIPTION | ONE SESSION | FIVE SESSIONS | SIX SESSIONS |
| --- | --- | --- | --- |
| Mesotherapy for Skin Tightening | £220 | £800 | |
| Mesotherapy for Cellulite | £220 | £800 | |
| Mesotherapy for Hair Loss | | | £900 |