What is scalp mesotherapy?
Scalp mesotherapy is a non-invasive hair treatment which  slows down capillary ageing, revitalising and strengthening the hair, while improving microcirculation and the supply of nutrients to the follicle through the action of injecting a cocktail of helpful chemicals directly into the scalp.
 The hair loss solution contain a combination of different vitamins, enzymes and hormones. This form of therapy is highly efficient in stimulating hair regeneration because it promotes effective blood circulation that  provides the hair follicles with all the important nutrients. 
This hair restoration treatment works so well because it was designed to directly tackle the main causes of hair loss, those being: lack of nutrients to the hair,  and blood circulation around the scalp. If you are concerned about your hair thinning and lacking in shine and volume, scalp mesotherapy will be a beneficial treatment for you.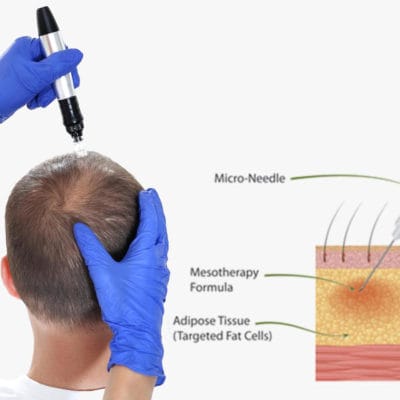 What are the benefits of scalp mesotherapy?
Scalp micro-needling has so many benefits and is favoured by many. One main reason is this treatment creates  micro-channels that improves the  micro circulation and nutrient supply  to the hair follicles, which other hair treatments cannot provide. Another great reason is that the hair loss solution, is  not only a  powerful hair follicle protector and stimulator, but also it  slows the capillary ageing, Revitalise and strengthen the  hair  follicle. 
This is a pain free and comfortable treatment which will not leave you in recovery for a long period of time, which means it's great for those who have a busy lifestyle.
What is the procedure when getting scalp mesotherapy?
Scalp mesotherapy is usually a 60 minutes appointment.
Our therapist will begin with a consultation to better understand your concerns surrounding the treatment and your desired outcome for your hair. At this point the therapist will explain the  process and will answer any questions you might have.
Superficial micro-needling  is delivered at a depth of 0.25mm on the scalp creating micro Chanel  and promoting the skin regeneration process . The mesotherapy solution is then applied to the scalp and needles in.
Scalp Mesotherapy Before & After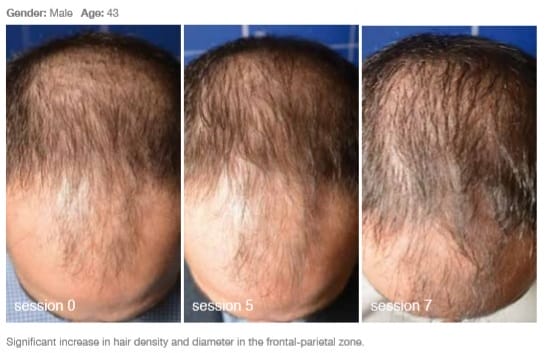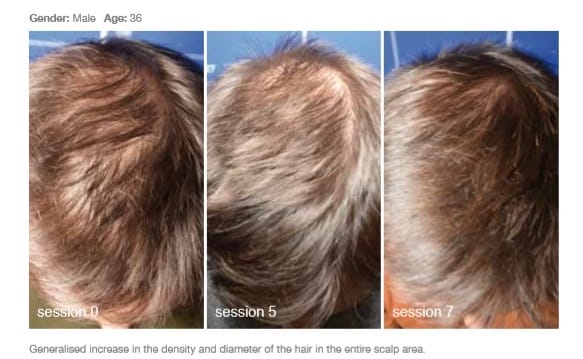 REQUEST YOUR FREE CONSULTATION
BOOK SCALP MESOTHERAPY TREATMENT AT HARLEY STREET OR BEAUFORT PARK
Book your scalp mesotherapy treatment online
Frequently Asked Questions
Let us answer some of the questions you may have below.
How many scalp mesotherapy treatments will I need?
This changes from person to person and is dependent on your own specific hair journey. The doctors do recommend several treatments with a minimum of a course of 3 sessions 
What is the scalp mesotherapy solution made up of?
copper tripeptide-1: Stimulates the proliferation of hair follicle cells.

vit-B complex (B5 dexpanthenol and b8 Biotin): Revitalises, conditions and moisturises the skin

and hair.
capsaicin: Increases the number of hair follicles. Prolongs the growth phase during the transition
pyridoxine (B6): Increases blood circulation in the scalp.
Are you the ideal candidate for scalp mesotherapy?
Scalp micro-needling is perfect for anyone who is suffering from hair thinning . If you have more questions about whether you are a good candidate for scalp mesotherapy make sure to book a free consultation at Hannah London today.
What to do before and after scalp mesotherapy?
It is very important to follow you in salon treatment by the recommended home-care throughout your treatment course as it count as 50% of your treatment journey.
Are there any side effect to scalp mesotherapy?
Scalp micro-needling is a very safe procedure with minimal side effects. slight redness and slight tingly or warming sensation are all normal and will quickly pass after the treatment. This treatment also does not require any form of local anaesthetic . The downtime is very short due to it being non-invasive so you will not have to take a prolonged period off from work or other commitments.
Does scalp mesotherapy hurt?
This procedure is not  painful, and most patients report that it feels strange at the beginning but very quickly will get used to the scalp needling sensation.
SCALP MESOTHERAPY PRICING
Single Session
£500
Course of Four
£1,800
Course of Six
£2,500