BOTOX LONDON
THE IDEAL ANTI-WRINKLE SOLUTION
• administered by medical doctors
• approved by FDA
• natural looking results
After years of frequent facial expressions, the brain sends a message from the nerve endings to the facial muscles instructing them to contract. 
Overtime, the facial lines form due to the facial expressions with addition of environmental & lifestyle factors. Our facial lines eventually become permanent, and wrinkles form.
This can be fixed with a Botox treatment.
These anti-wrinkle injectables are proteins that interrupt this process, leaving the contracting muscles unable to crease or wrinkle the skin. 
Read on, and let us give you a deep insight into what's involved in getting back your youthful appearance through a non-surgical botox treatment and how Botox treatment differs from Dermal Fillers, so you have a better understanding of which treatment suit you best for your needs at our clinic in London.
You can find more information on Botox in our 'frequently asked questions' section below.
Hannah London is an Aesthetic Medispa that is led by a highly trained, skilled, and qualified team with medical directors administering and overseeing our advanced aesthetic treatments like Botox.
Botox® is the brand name that has become widely known due to the active ingredient it uses called Botulinum Toxin. A toxin that temporarily smooths out facial wrinkles and improves your facial appearance. Hence, the Botox treatment is also referred to as anti-wrinkle injection.
Hannah London will only ever use the authentic branded Botox® which is only administered by our highly trained, skilled and experienced aesthetic doctors.
The main reason Botox is popular is that it works. 
Botox works by being injected right into the facial creases, targets and gently relaxes the facial muscles that cause dynamic wrinkles. (Dynamic wrinkles are wrinkles caused by repetitive facial movements, resulting in permanent creases on the face.) 
Once the injections have had time to work, the wrinkles will relax and greatly reduce the appearance of fine lines and wrinkles on the face while smoothening the overall area(s) treated. 
What areas does Botox treat?
BOTOX® injectables are mainly used on the face. Forehead wrinkles, crow's feet lines around the eyes, and the "11 lines" between the eyebrows are the most commonly treated areas. 
Forehead "worry lines" – formed when we raise our eyebrows

Glabellar "frown lines" – the area between the eyebrows

Crow's Feet – the areas around the outside of the eyes. Wrinkles form here when we squint or smile.

Bunny Lines – Wrinkles over the bridge of nose

Nefertiti neck lift-tightens jawline and eliminates 'turkey neck'

Dimpled chin

Smile lines
Wrinkles and fine lines can be identified in two ways: dynamic or static. Dynamic lines are those which are evident when expressing emotion. Static lines are those which remain evident even when the face is relaxed.
The main areas that are affected by dynamic and static lines, and resulting in permanent creases, may benefit from an anti-wrinkle injection are as follows:
Hyperhidrosis is a condition caused by excessive sweating that may not necessarily be related to heat or exercise. Sweating excessively may make clothes soak up water or drip off your hands, disrupting normal daily activities as well as causing social anxiety and embarrassment.
Hyperhidrosis can be treated with Botox injections in the underarms, feet or palms. The botulinum toxin blocks the nerve signals causing abnormal sweating, stopping sweat glands from producing too much sweat. 
When trusting someone with your face, we cannot stress enough, the importance of choosing the right practitioner who has your overall health and wellbeing in mind.
At Hannah London, you can have confidence in our licensed Botox specialists and qualified doctors like Dr.Kaywaan. 
All our therapists and aestheticians are highly trained and with years of experience. See our team here.
Don't think twice, book your free Botox consultation below.
Say Goodbye to lines & wrinkles. Say Hello to confidence & youthfulness.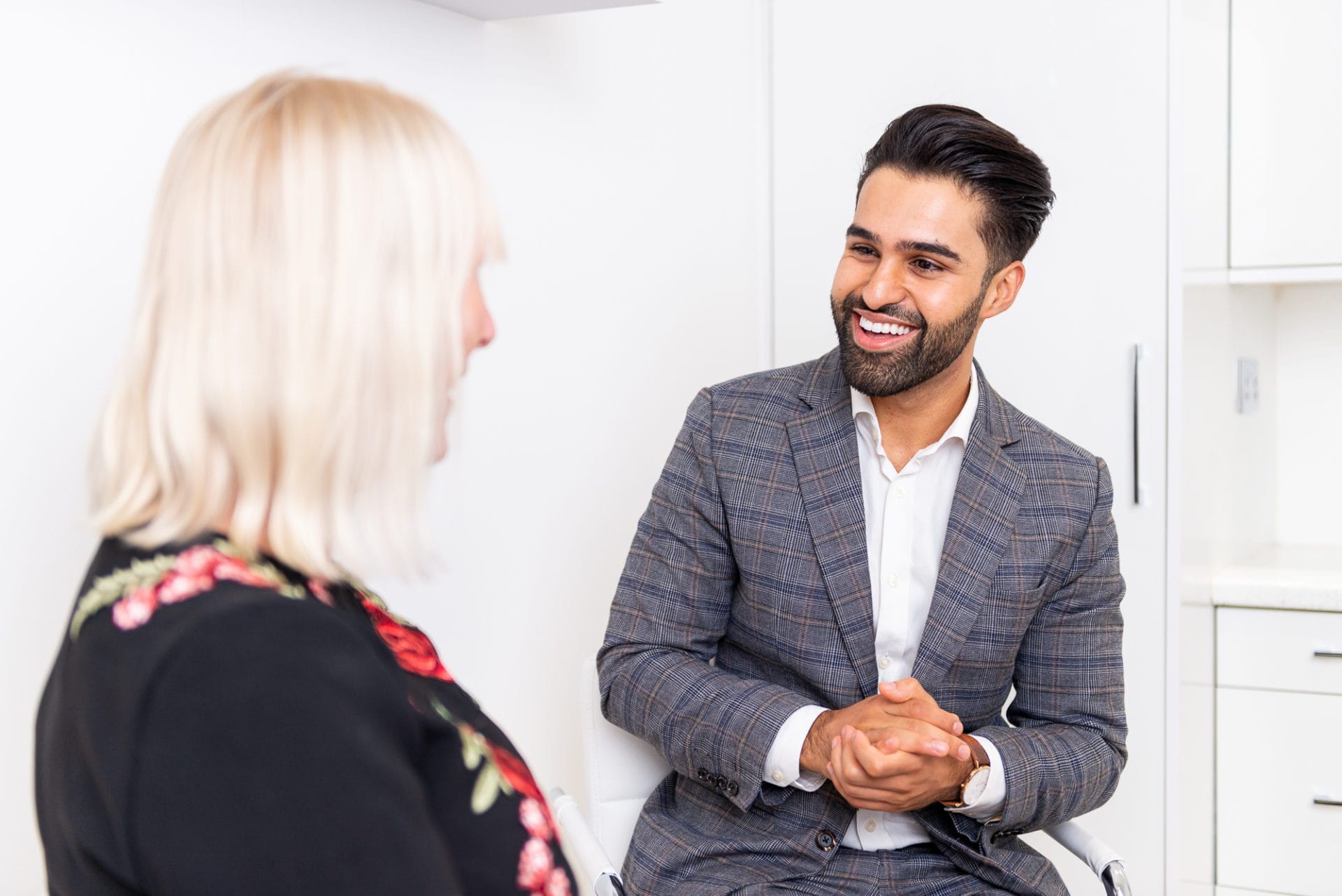 BOOK YOUR BOTOX TREATMENT ONLINE OR SCHEDULE A FREE CONSULTATION BELOW
REQUEST YOUR FREE CONSULTATION
BOOK YOUR BOTOX TREATMENT AT HARLEY STREET OR BEAUFORT PARK
Book Botox Treatment Online
Frequently Asked Questions
Let us answer some of the questions you may have below.
IS BOTOX SAFE?
Yes, Botos is definitely safe. 
Since 2002, Botox has been FDA approved for alleviating aging lines effectively.
As with most cosmetic treatments, side effects may occur, some clients report mild bruising outside of the usual range.
To reduce the chance of complications, it is important that anti-wrinkle injections are administered by highly qualified practitioners in a safe and medical environment.
WHO CAN RECEIVE BOTOX INJECTIONS?
BOTOX® injections are an affordable treatment anyone can access. Even men can receive Botox. Unlike some cosmetic medical treatments, they're suitable for anybody with wrinkles or other skin lines they want removed. This includes people who want to combat the signs of natural ageing, or those who have developed wrinkles from exposure to the sun. 
Treatment is not advisable for those who are pregnant or breastfeeding. While there are no clinical studies to show that the injections are harmful to the baby or mother, medical professionals advise against having treatment under these circumstances. Be aware that we will discuss your medical history for your safety.
WHAT HAPPENS AT A BOTOX CONSULTATION?
Your BOTOX® consultation will be with a highly trained and an experienced medical professional trained in administering the injectables. 
In order to guarantee your desired results, we will discuss your concerns and medical history. We aim to help you understand the Botox treatment, its effects and how it works to prevent or improve fine lines.
IS THERE A DIFFERENCE BETWEEN BOTOX & DERMAL FILLERS?
Yes, there is a 100% difference between Dermal fillers & Botox!
Botox "freezes" the small muscles in your face from making the movements that cause wrinkles. 
Dermal fillers plump your skin from below the wrinkles to smooth them out and promote a youthful look.
The main areas we treat Dermal Fillers are;
Tear Troughs – lines under eyes

Nasolabial Folds – commonly known as smile or laughter lines

Cheeks – to add volume

Nose – to straighten out any bumps or lumps with no downtime

Lip Fillers – to boost fullness or increase definition
WHAT ARE THE SIDE-EFFECTS OF BOTOX?
There are no long term side-effects associated with the Botox injections. You can resume your daily activities straight after the treatment.  However depending on how the body reacts, it is important to note that you may notice some bruising and swelling directly after your botox treatment due to the needle. 
For best results, avoid touching the area that has been treated or any exercise for 3-6 hours post treatment. This ensures that the product works to the best of its abilities, giving you great results.
You may notice small pin prick marks on the injection site but they will wear off quickly.
IS THERE ANY DOWNTIME AFTER BOTOX TREATMENT?
There is no downtime associated with the Botox injections. However there are precautions you need to take post Botox treatment for best results. 
DOES BOTOX HURT?
There may be a slight discomfort whilst the Botox  is being injected into the face. But we minimize this discomfort by applying an anesthetic cream before treatment to numb the area.
WHEN WILL I SEE THE RESULTS?
Your Botox results should be visible after 5- 7  days.
CAN I DRINK ALCOHOL AFTER MY BOTOX APPOINTMENT?
In order to avoid any excess blood flow to the face that may spread the Botox around, we ask you to avoid exercising, bending over,  saunas and even alcohol.  
CAN I TOUCH MY FACE AFTER RECEIVING BOTOX?
We advise you to not touch your face for at least 6 hours, like with any injectables. 
It is also recommended not to apply any makeup until after 24 hours. If you must clean your face, please use gentle pressure.
It is advised to sleep flat on your back and try not to sleep with your face flat on the pillow or on your sides for 24 hours.
WILL BOTOX DRASTICALLY CHANGE MY FACE?
Botox injections won't change your face drastically. Botox treatments reduce muscle movement, hence it doesn't prevent your muscles from moving. The Botox won't give you that 'frozen look' face – this is only due to the excess amount of Botox being used.

At Hannah London, you can trust us that our doctors will administer the right amount of Botox giving you beautiful and natural results.
HOW LONG DOES BOTOX LAST?
Botox lasts between 3-4 months. To maintain your desired look and results,  it is advised to book for a top up every 4 months which will later become every 6 months as your muscles will become adapted to Botox.
WILL I SEE IMMEDIATE RESULTS?
The Botox results are not immediate as it can take upto 5 days for the results to become fully visible.
HOW LONG DOES A BOTOX TREATMENT LAST?
The Botox procedure usually takes around 10 minutes depending on how many areas you are treating.
The Botox is injected directly into the lines and wrinkles which results in temporarily relaxing the facial muscles. The doctor will discuss the results with you and repeat treatments.
HOW MUCH DOES BOTOX COST?
Like many facial aesthetic treatments, prices vary widely depending on the area you choose for treatment. Some doctors charge per unit of Botox used, some charge per area.

Our prices start from £190 for One Area. See our full Pricing list below.
| One Area | £190 |
| --- | --- |
| Two Areas | £250 |
| Three Areas | £290 |
| Extra Area | £50 |
| Platysma (Neck Lift) | £350 |
| Masseter (Jaw Slimming Effect) | £290 |
| Hyperhidrosis (Underarms/ Feet/Palms) | from £350 |
| Bells Palsy | from £190 |
| Blushing | £300 |
| Migraine | £300 |