HIFU
High-Intensity Focused Ultrasound – the ideal non-invasive alternative to face-lift & body tightening treatments.
• long lasting results for up to 3 years
• smoothes skin & boosts collagen
• pain-free & no downtime
High-Intensity Focused Ultrasound
HIFU (high-intensity focused ultrasound) is a great non-surgical face and skin tightening treatment.
This treatment is not only good for the face and neck but also a great option for loose skin after post-pregnancy weight loss.
High-Intensity Focused Ultrasound at Hannah London
At Hannah London clinic, you can instantly see the beneficial effects of a HIFU treatment after just 1 treatment. HIFU therapy works by gently lifting and sculpting facial features. As we approach our late twenties, we begin to lose collagen that is responsible for rejuvenated skin. Collagen is vital in making our skin feel plump and look youthful.
Patients may choose to focus on lifting the brows in order to open the eyes and appear more refreshed and youthful, or you may want to choose to work on your jaw and neck to reduce or eliminate sagging. This is a marvellous treatment that can be customised to help improve the areas of your face you feel most insecure about, without any incisions, needles or intense pain.
During the HIFU treatment, the handheld HIFU device is held against the skin to emit ultrasound waves down to the muscle that sets into motion the marvellous and natural work of collagen. This results in amazing skin tightening, rejuvenation, and regeneration properties for firmer and smoother skin.
The results continue to get better over time for up to six months as the collagen production gets to work. This makes HIFU an incredibly long-lasting treatment (up to three years) that does not require regular top-ups or repeat treatments.
HIFU can also be applied to different areas of the body for the same collagen boost and benefits. As such, it is an alternative to invasive treatments and it also works with the natural elements of your body instead of working against it.
You can choose HIFU body treatments to target the likes of your arms, abdomen, back, legs, sides, and more. Just like with the face and neck areas above, HIFU body treatments implement a process known as thermocoagulation in conjunction with both collagen production and skin contraction to bring these brilliant results.
This new non-invasive treatment is loved by many because it is the ideal, non-surgical alternative to a face-lift with its tightening qualities. If you want to quickly and safely lift, sculpt and tighten aging skin this is the ideal treatment for you!
What are the steps in a HIFU treatment?
This is a fast procedure lasting anywhere from 30-90 minutes.
HIFU Treatment Before & After
When trusting someone with your body and face, we cannot stress enough, the importance of choosing the right practitioner who has your overall health and wellbeing in mind.
At Hannah London, you can have confidence in our licensed HIFU specialists and qualified doctors like Dr.Kaywaan. All our therapists and aestheticians are highly trained and with years of experience. See our team here.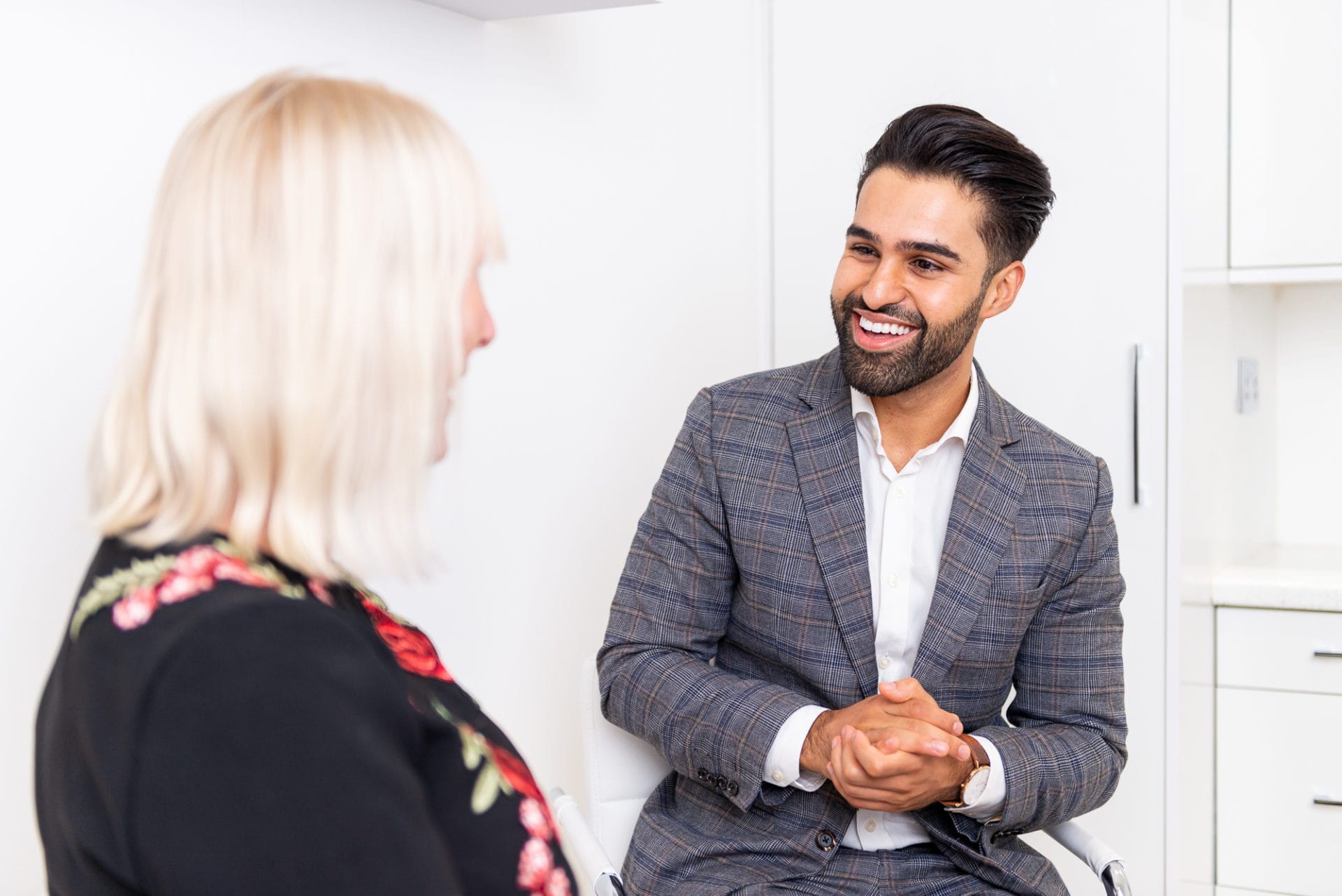 Don't think twice, book your free HIFU consultation below.
Say Goodbye to premature ageing symptoms. Say Hello to rejuvenated & tightened skin, increased blood circulation, enhanced jawline definition and long lasting results.
BOOK HIFU TREATMENT AT HARLEY STREET OR BEAUFORT PARK
Book your HIFU treatment online
Frequently Asked Questions
Let us answer some of the HIFU questions you may have below.
HOW MANY HIFU SESSIONS ARE REQUIRED TO SEE A RESULT?
After just one treatment, you can see noticeable results post-procedure!
The results continue to get better over time for up to six months as the collagen production gets to work.
This makes HIFU an incredibly long-lasting treatment (up to three years) that does not require regular top-ups or repeat treatments.
The HIFU therapy is unique and its ability to improve the results over time may vary, particularly around the 6-month period.
This is due to the internal inflammatory response (do not worry this will not cause visible swelling), which occurs due to cellular damage which works to induce collagen formation.
As more time passes the body's collagen production will continue to increase which explains why results are maintained and even greater quite sometime after the last procedure.
HOW LONG IS THE RECOVERY TIME AFTER HIFU THERAPY?
There is no downtime after HIFU therapy, as it is non-surgical, the recovery period is significantly shorter than an actual facelift.
Your doctor will discuss this further with you.
WHAT ARE THE BENEFITS OF HIFU?
Our clients love the clinically proven HIFU treatment.
The benefits of HIFU;
Instant and long lasting results

tightening the skin

boosts the production of collagen

increases blood circulation

enhancing the jawline definition

tightening of the décolletage

rejuvenates skin

non-surgical

no downtime
ARE THERE ANY SIDE EFFECTS TO A HIFU TREATMENT?
This is a very safe treatment and side effects are very rare.
There is very minimal redness after the treatment and no bruising or swelling.
This procedure is quick, easy, and pain-free so you can get back to work or return to your daily routine right away!
WHO IS HIFU THERAPY RECOMMENDED FOR?
Dermatologists recommend the procedure for people who are experiencing mild to moderate premature aging symptoms.
Those who are currently experiencing cystic acne, active cold sores, or high levels of sagging skin are not ideal candidates for HIFU therapy.
If you are unsure if you are the perfect candidate for this procedure make sure to contact Hannah London and book a free consultation to find out more information.
IS HIFU TREATMENT PAINFUL?
Patients report the procedure not being very painful due to its non-invasive qualities, meaning there are no needles involved and nothing is piercing the skin surface, making it a mostly pain-free experience.
Although HIFU therapy is usually a pain-free experience the aesthetician can apply a numbing cream to ensure the patient is comfortable during the procedure.
WHAT IS THE PRICING OF THE HIFU TREATMENT IN LONDON?
HIFU Brow Lift£200
HIFU Neck Lift£400
HIFU Full Face£700
HIFU Full Face & Neck £905
HIFU Body £600
| DESCRIPTION | PRICE |
| --- | --- |
| Hifu Brow Lift | from £200 |
| Hifu Double Chin | £300 |
| Hifu Neck and Jaw Lift | £400 |
| Hifu Full Face and Neck | £900 |
| Hifu Body | from £600 |